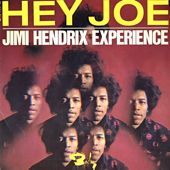 Note from the underground: Psychedelic Sight revolves around two works in progress: A list of the 100 greatest psychedelic songs (this page) and one of the top 50 psychedelic albums.
So where are the other songs? True to the spirit, the list will be filled in randomly — whenever the muse turns up.
Click on the titles to read an in-depth appreciation of each song and learn why it has been immortalized in the Psychedelic Sight Top 100. → Nominate a psychedelic song (or album).
The top 100 psychedelic songs
6.
"White Room"
by Cream, from "Wheels of Fire" (1968)
9.
"Eight Miles High"
by the Byrds, from
"Fifth Dimension"
(1966)
10.
"Happenings Ten Years Time Ago"
by the Yardbirds, from "Roger the Engineer" (1966)
12.
"Fire"
by the Crazy World of Arthur Brown from
"The Crazy World of Arthur Brown"
(1968)
13.
"Time Has Come Today"
by the Chambers Brothers, from "The Time Has Come" (1967)
15.
"Season of the Witch"
by Donovan, from "Sunshine Superman" (1966)
16.
"I Walk on Guilded Splinters
" by Dr. John the Night Tripper, from "Gris-Gris" (1968)
20.
"My White Bicycle"
by Tomorrow (single, 1967)
22.
"East-West"
by the Paul Butterfield Blues Band, from "East-West" (1966)
26.
"Sky Pilot"
by Eric Burdon & the Animals, from "The Twain Shall Meet" (1968)
28.
"Help, I'm a Rock"
by the Mothers of Invention, from
"Freak Out!"
(1966)
30.
"Iron Butterfly Theme"
by Iron Butterfly, from "Heavy" (1968)

33.
"Eskimo Blue Day"
by Jefferson Airplane, from "Volunteers" (1969)
34.
"Mechanical World"
by Spirit, from the debut album (1968)
39.
"Song for a Dreamer"
by Procol Harum (Robin Trower), from "Broken Barricades" (1971).
41.
"Exp" / "Up From the Skies"
by the Jimi Hendrix Experience, from "Axis: Bold as Love" (1967)
44.
"Maggot Brain"
by Funkadelic, from "Maggot Brain" (1971)
45.
"Machine Gun"
by Band of Gypsys (1970)
47.
"My Crystal Spider"
by Sweetwater, from "Sweetwater" (1968)
50.
"Atom Heart Mother" suite
by Pink Floyd, from "Atom Heart Mother" (1970)
53.
"Don't Come Around Here No More"
by Tom Petty and the Heartbreakers, from "Southern Accents (1985)
61
.
"Hypnotized"
by Fleetwood Mac, from "Mystery to Me" (1973)
66.
"Hey Joe"
by the Jimi Hendrix Experience, single (1966)
69.
"Rocket Number Nine"
by Sun Ra (recorded 1960)
77.
"Ball of Confusion (That's What the World Is Today)"
by the Temptations, single (1968)
79.
"San Francisco Girls (Return of the Native)"
by Fever Tree, from "Fever Tree" (1968)
81.
"Dark Magic"
by Moby Grape (1966)
82.
"Every Christian Lion Hearted Man Will Show You"
by the Bee Gees, from "Bee Gees' 1st" (1967)
87.
"They're Coming to Take Me Away Ha-Haaa!"
by Napolean XIV (1966)
90.
"She (Will-O-the-Wind)"
by the Collectors (1968)
100.
"Just Dropped In (to See What Condition My Condition Was In)"
by the First Edition (1968)
LET'S RAP: Want to nominate a song and its position on this list of the best psychedelic songs? By all means:
→ Nominate your psychedelic songs (or albums).
Your comments also are welcome on the reviews of individual songs (all linked above).