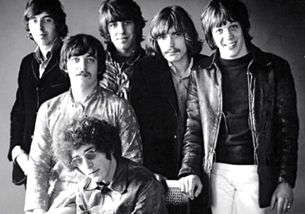 Psychedelic-era heavyweights Procol Harum and Deep Purple are among the nominees for the 2013 class of the Rock and Roll Hall of Fame.
They join fellow sonic pioneers Kraftwerk, the Paul Butterfield Blues Band, Public Enemy and the Meters.
Inductees "will be announced in the coming weeks," the Rock Hall said.
(Update of Dec. 12: Procol Harum and Deep Purple will have to wait. No psychedelic bands made the cut for 2013. The inductees are Public Enemy, Albert King, Rush, Randy Newman, Heart and Donna Summer.)
Other nominees include Rush, Donna Summer, Albert King and Chic (view list of Rock Hall nominees).
Psychedelic folk music pioneer Donovan and the Small Faces were among those inducted into the Hall in 2012.
Procol Harum recently saw its record catalog get an ambitious upgrade by the British label Salvo. The classic band had Gary Brooker on piano and vocals, Matthew Fisher on Hammond organ and Robin Trower on guitar. Keith Reid, author of the band's literary and often-cinematic lyrics, was considered a member of Procol Harum, and quite rightly so.
Procol Harum is best known, of course, for the gothic haunter "A Whiter Shade of Pale," among the most played songs of the second half of the 20th century.
The Rock Hall credits them with "rock's first and arguably greatest major orchestral project, whose evocative 'Conquistador' is a dramatic tour de force that has held onto its mystique for four decades."
The band's "Song for a Dreamer" makes our list of best psychedelic songs, at No. 39. It was written and performed by guitarist Trower in the wake of Jimi Hendrix's death.
Procol Harum often is labeled as a psychedelic band or art rock band, but it never lost hold of its R&B/rock 'n' roll roots. The band also did preliminary explorations of what would become pro rock.
Other psychedelic Procol Harum songs include "Cerdes (Outside the Gates Of)," "Shine on Brightly" and "In Held 'Twas in I." The band continues to tour with Brooker at the helm. (View Procol Harum setlists.)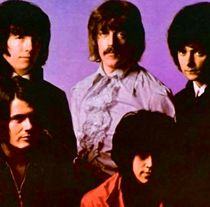 Deep Purple started life as a psychedelic band, but evolved into one of the top hard rock acts of the 1970s. Its founder and keyboardist Jon Lord died earlier this year.
"Their onslaught of sound … led rock critics to coin a new musical genre: heavy metal," the Rock Hall noted.
The early Deep Purple Deep Purple emerged in 1968, giving covers of mainstream pop songs "Hush" and "Kentucky Woman" a wash of psychedelic rock. Lord then steered the band into experiments with a rock-classical fusion.
The hard-rock sound the ban forged a few years later had as its main ingredients Lord's Hammond C3 organ — as wrenched through a stack of Marshall amplifiers — and guitarist Ritchie Blackmore's proto-metal riffs. That tense primal sound gave Deep Purple a unique sonic identity.
Despite Deep Purple's fame and eagerness to experiment, it never garnered the kind of artistic respect awarded contemporaries such as Traffic and Procol Harum. Deep Purple has been eligible for the Rock and Roll Hall of Fame for two decades, but never inducted.
Deep Purple's classic rock hits include "Smoke on the Water," "Child in Time" and "Strange Kind of Woman."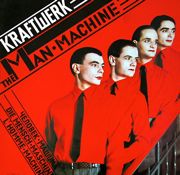 Kraftwerk sold relatively few records over its long career, but the German band's influence proved vast in genres such as electronica, ambient and new wave.
"Kraftwerk is the foundation upon which all synthesizer-based rock and roll and electronic dance music is built," the Rock Hall noted.
Formed in 1970 by Ralf Hütter and Florian Schneider, the combo was among the first to make extensive use of electronic synthesizers such as the Minimoog. Although many of its tracks were (deliberately) repetitive instrumentals, its influences include the Beach Boys. The band often used vocoder electronic processing devices for vocals.
The band usually is lumped in with the krautrock genre of the early 1970s, along with fellow travelers Tangerine Dream and Can.
Key albums include "Autobahn" (1974), "Trans-Europe Express" (1976), "The Man-Machine" (1978) and "Computer World" (1981).
The band infuenced Björk, David Bowie, Joy Division and New Order, Depeche Mode and OMD, among many others. U2 covered some of Kraftwerk's songs in its "Vertigo" era.
Schneider left Krafwerk in 2008. In April 2012, the band performed eight of their albums over eight nights as part of a Kraftwerk installation at the Museum of Modern Art in New York.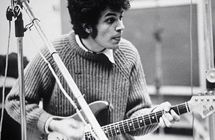 The Paul Butterfield Blues Band played much more than blues. It incorporated rock, roots music, jazz, funk and folk in a string of remarkable albums during its glory years of 1965-1970.
Butterfield was a white prodigy of Muddy Waters who sang and played harmonica. His early band included the ace guitarists Mike Bloomfield (pictured, left) and Elvin Bishop.
Bloomfield's raga rock epic "East-West" from the second Butterfield album, ranks No. 20 on the roundup of top psychedelic songs. "East/West" influenced many of the California psychedelic bands, lighting the way to free-form improvisation, dissonance and non-traditional scales.
Public Enemy, an early rap band, produced some remarkably dense and complex musical backgrounds for frontman Chuck D's politically themed vocals. They advanced the art of "sampling" existing music to produce new and startling music.
The Meters helped build the template for funk and hip-hop with the instrumental singles "Look-Ka Py" and "Cissy Strut." The band, led by Art Neville, had a long association with fellow New Orleans luminary Dr. John. They are among the most-sampled acts in music. Fans include the Rolling Stones and the Grateful Dead.
The Rock and Roll Hall of Fame intends to include fan voting in 2013. The results of online polling will be tallied into a single ballot. Vote for 2013 Rock Hall inductees.
Psychedelic music is well represented in the Hall of Fame: Inductees include the Jimi Hendrix Experience, Cream, the Beatles, Pink Floyd, the Grateful Dead, Jimmy Page, Jeff Beck, the Yardbirds, the Byrds, Jefferson Airplane, Miles Davis, Traffic, Santana, Frank Zappa, the Doors and the Who.