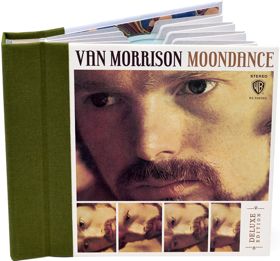 After years of neglect, Van Morrison's "Moondance" album comes skipping back via a full-blown "deluxe edition."
The five-disc box set, due Sept. 30, includes four CDs and a Blu-ray version of the album with 5.1 surround DTS-HD Master Audio.
Much of the Warner Music box set is dedicated to multiple studio takes of songs from the 1970 album.
To no one's surprise, an angry Morrison immediately distanced himself from the release:
Yesterday Warner Brothers stated that "Van Morrison was reissuing Moondance." It is important that people realize that this is factually incorrect. I did not endorse this, it is unauthorized and it has happened behind my back. My management company at that time gave this music away 42 years ago and now I feel as though it"s being stolen from me again.
The notice was posted on Morrison's web site.
For those not in need of six takes of "Caravan" or "Brand New Day," Warner is offering an "expanded edition" with two CDs. Disc 1 has the original album while the second has highlights of discs 2-4 from the box set.
Amazon lists the deluxe edition at $75 while the expanded version goes for $25. There is also a single CD with just the album (no bonus tracks) at $14.
The Blu-ray disc won't be available separately. In addition to its 5.1 surround presentation, there is a 48K 24 bit PCM stereo track.
Warner owns the rights to what are essentially Morrison's first three solo albums: "Astral Weeks," "Moondance" and "His Band and the Street Choir." The domestic CDs date back to the early days of the format — and are embarrassingly dated in terms of audio quality.
The three albums were remastered and rereleased on CD in Japan in 2008 as part of the Warner-Pioneer "Forever Young" series (with the Japanese "Moondance" coming out again this month).
Domestic 180-gram vinyl versions of the three albums date back about five years — mastered by Kevin Gray and Steve Hoffman at AcousTech Mastering. They remain available. The Gray-Hoffman mastering is not being used for the new Warner release, according to Hoffman's music forum. ("We made a digital master just in case but I doubt WB ever will use it for anything.")
Britain's Uncut magazine, which broke the "Moondance" story, said the deluxe edition "will be presented in a linen-wrapped folio and includes a booklet with liner notes from Alan Light (of Spin magazine) and original engineer Elliot Scheiner."
The "Moondance" album was Morrison's breakthrough as a solo artist. It found its audience via heavy play on the underground FM rock stations popping up around the nation. "Unlike Van's masterful 'Astral Weeks,' this one will be immensely popular," Rolling Stone wisely predicted in its "Moondance" record review of March 1970. "His new music is getting more airplay on FM stations than anything in recent memory."
The title track, a staple of weddings and easy listening radio, is perhaps Morrison's best-known song. It was not released as a single until seven years after the album's release. "Come Running," the single from the "Moondance" album, cracked the top 40 in 1970.
No related plans have been revealed for "Astral Weeks," considered one of the true masterworks of 1960s rock and a "holy grail" title for Morrison fans seeking improved audio quality.
"Astral Weeks" often is classified as a psychedelic folk record, but "Moondance" found the Irish singer tilting toward the R&B mode he favored for decades. Still, the exotic "Moondance" tracks "Caravan," "And it Stoned Me" and "Into the Mystic" easily qualify as underground music classics.
In addition to the various studio takes of "Moondance" songs there are a few other goodies in the box set:
"I Shall Sing," a song Morrison recorded for the album but didn't use, is included with multiple takes. There's also an "outtake" of "Nobody Knows You When You're Down and Out" and four remixes of "Moondance" songs.