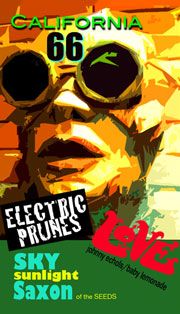 Moby Grape guitarist/songwriter Jerry Miller has joined the California '66 Revue tour, stepping in after the death of Sky Saxon of the Seeds.
The tour's full lineup now is the Electric Prunes, Love and Miller.
The package tour runs Aug. 4 through Aug. 18, with Miller coming aboard for the last week. California '66 plays the Northeast and Midwest, although organizers say the tour may continue if interest is sufficient.
Update of Aug. 6: The tour now appears down to Love, Miller (on some dates) and "special guests." The web site announced the Electric Prunes would only play the WPKN benefit on Aug. 6 in Fairfield, Ct. That show also reportedly will feature a Blues Magoos reunion. Love (Baby Lemonade) plan to continue the California '66 tour in venues that want to keep the booking, the web site said. The clubs should: This version of Love is well worth seeing and includes original member Johnny Echols.
Jerry Miller played lead guitar in Moby Grape and wrote some of its finest songs, including "8:05" and "Hey Grandma" from the 1967 debut album, and "Murder in My Heart for the Judge" from its second (double) LP. He plays with his own band in Washington state and reunites occasionally with the other surviving members of Moby Grape.
Rolling Stone has Miller on its list of the greatest guitarists of all time.
The highly respected Miller gives the tour a solid citizen from the psychedelic era. The tour also has the two founders of the Electric Prunes and one of the original guitarists from Love.
Arthur Lee, the legendary frontman of Love, died a few years back. The Love band on this tour is actually Baby Lemonade, which capably backed Lee in the last years of his life.
Saxon died five weeks before the tour was to begin. The California '66 Revue is now dedicated to the memory of the garage/psychedelic music pioneer.
California '66 tour dates include Philadelphia (Aug. 4), Montreal (Aug. 8), New York (Aug. 9), Chicago (Aug. 12), Detriot (Aug. 15) and Cleveland (Aug. 16).
Related content:
Woodstock tour reunites fest bands
Prunes, Love, Saxon head East
Top psychedelic albums: Love's "Da Capo"