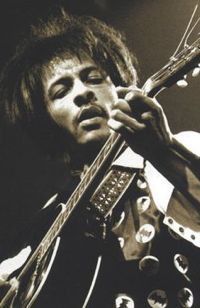 Calling it among the "rarest of rock artifacts — a never-before-released full-length studio album from an undisputed musical genius," High Moon Records has set Arthur Lee and Love's "Black Beauty" album for a June 7 release.
"Black Beauty" is no label reject. It was produced by Paul Rothchild, famed for his work with the Doors, Janis Joplin and the Paul Butterfield Blues Band. Rothchild also produced Love's second album, "Da Capo," for Elektra.
"Black Beauty" was to come out on indie label Buffalo Records, owned by Michael Butler (producer of the musical "Hair"). The label went belly-up before Lee's "Black Beauty" was released. Bootlegs have long been circulating, but no legitimate release of the LP ever materialized.
Lee's widow, Diane, has been trying to get the album out there in the years since his death. "Arthur Lee fans won't be disappointed," Lee biographer John Einarson writes in his (excellent) 2010 book "Forever Changes: Arthur Lee and the Book of Love."
Among the tracks recorded at the "Black Beauty" sessions were a hard-rock cover of the jangly folk hit "Walk Right In" from 1963 and "Beep Beep," Lee's first attempt at reggae. The Lee songs "Good & Evil" (aka "I'm Good & Evil (Do What I Do)," "Midnight Sun" and "Product of the Times" were resurrected from a 1971 Love session at CBS — compiled by Sundazed Records in 2009 as the album "Love Lost."
The "Black Beauty" band was all-Afro American, led by longtime pal Robert Rozelle (bass). Rozelle put the band together for the album because Lee's "Vindicator" band fell apart due to money disputes. Drummer Joe Blocker, from Lee's old neighborhood, recalled of the new group: "We got all very well. It was all fun. There were no disputes with Arthur."
Rolling Stone writer David Fricke recently did a blog post on bootleg Love tracks. He wrote: " 'Black Beauty' might have been received as a strong comeback for Lee, a turn to steamy R&B with heavy-guitar punch — if it had come out."