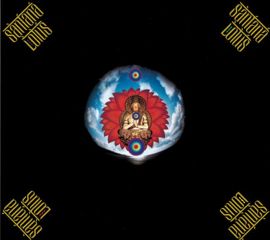 Santana fans' loyalties are rewarded in October and November with a quartet of 180 gram vinyl releases — paced by a 40th anniversary edition of the live adventure "Lotus."
That triple-disc recording made in the summer of 1973 captures the "Welcome"/"Caravanserai" band ("the New Santana") in its jazz-rock-fusion glory, performing in Osaka, Japan.
Some critics consider "Lotus" among the best live recordings made in the rock era. Of the dozens of Santana albums, Rolling Stone gives five stars to only two — "Lotus" and "Abraxas."
"Lotus" long was a sought-after import, initially released as a triple-LP set out of Japan (1974). It featured superb art direction with a multilevel fold-out cover of psychedelic bent, reflecting Carlos Santana's immersion in spirituality. (The set eventually saw release as a double CD in the States, in 1991.)
The two recorded shows were mostly instrumental, keyed by a legendary 16-minute take on "Incident at Neshabur."
The studio album "Abraxas" provides the most songs on "Lotus," including "Neshabur," Peter Green's "Black Magic Woman" and "Samba Pa Ti." From "Caravanserai" comes a funkified flirtation with Antonio Carlos Jobim's "Stone Flower" and almost 12 minutes of Michael Shrieve's "Every Step of the Way."
Band members are drummer Shrieve, percussionists José "Chepito" and Armando Perez, keyboardist Tom Coster, bassist Doug Rauch and singer Leon Thomas.
The original on-site recording was done by the Japanese audio wizards from Sony, with mastering for the new LPs done by Joe Reagoso. The discs were pressed at Record Technology Inc.
Friday Music says its re-creation of the vinyl "Lotus" includes "the original trifold cover art and the special psychedelic insert artwork … now restored to their full glory." The set retails for about $50 and bows Nov. 19.
Also due from Carlos Santana's back pages is his live collaboration with drummer-vocalist Buddy Miles, recorded at a Hawaiian rock festival in early 1972. "Carlos Santana & Buddy Miles Live" features guitarist Neal Schon and gets an unusual flavor from trumpet and flute. Songs include "Evil Ways," "Them Changes" and a 25-minute jam. Friday's single-disc album comes out Nov. 5.
Fusion in the rear view, Santana's seventh album, "Amigos," found the bandleader aiming toward a radio-friendly sound, via producer David Rubinson. "Amigos" yielded a minor hit, "Let it Shine." Rolling Stone called the album "safe" and "consistent." Greg Walker and Leon "Ndugu" Chancler are among the players. Columbia's Speaker's Corner revives the album on a 180 gram slab Oct. 29.
"Santana's Greatest Hits" is a misnomer these days — it's a outdated label packaging job with songs from the first two albums. Friday recycles it nonetheless, Oct. 29.
Other Santana albums already rereleased to vinyl via Friday Music are "Moonflower" and "Love Devotion Surrender" with fellow white-suited devotee John McLaughlin (both 180 gram audiophile records). Columbia has a 180 gram version of the Santana-Buddy Miles album as well.