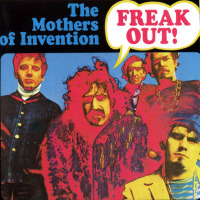 Frank Zappa took no drugs, but his headphone masterpiece "Help, I'm a Rock" launched zillions of LSD trips back in 1966.
That's "Rock" as in acid rock.
Zappa explained this nine-minute serving of madness as the result of a bunch of people fooling around in the studio. "It was just a thing that spewed out," Zappa said a decade later. "What was happening was what was in the air that night."
Those madmen happened to be ace musicians, making the extended piece as much an exercise in free-form jazz as in psychedelic music. "Note the interesting formal structure," Zappa deadpans in the liner notes.
Update: Zappa albums reissued by UMG, Zappa family.
"Help, I'm a Rock" delivered the goods to wannabe hipsters drawn to the Mothers of Invention's first album by the promise of a "Freak Out!" (Mostly, the listeners received a heavy dose of greasy pop parodies and dip-shit doo-wop.)
Young Zappa schooled himself in multitracking before he ever got a record deal. Here he layers screams, duck calls, alien beeps and chatter, tribal chants, a female orgasm — all in the service of the deadpan vocal drone "Help, I'm a Rock."
For a while, the lyrics go something like this, with rock producer Kim Fowley speaking in tongues …
Ay-yo ee-ow-ee-ow-ee
Veni-ma-no too mah
Veni veni ka toree tor (see'dra votra nee!)
Vedi-vedi ki-ta-la tom-bay
Vel-lay ka-la tay-la-tor
Vel-lay kay-la ta-la-sor
Vel-lay kay-lay ka-la-tor
… and then we hear from the Rock itself (Zappa):
Wow, man, it's a drag being a rock
I wish I was anything but a rock
Heck, I'd even like to be a policeman
Hey, you know what?
You know maybe if I practice, you know
Maybe if I pass my driving test
I could get a gig driving that bus that pick the freaks up
In front of Ben Frank's, right?
Before long comes the ghostly question: "Who can imagine, that they would freak out in Kansas?" (and other unlikely spots) — a clutch of vocal nonsense prefacing a Cecil Taylor/Sun Ra-inspired detour into space jazz, with piano solo by Zappa. Spaced is the place.
One reviewer called Zappa's "Freak Out!" experiments "the greatest stimulus to the aspirin industry since the income tax."
"Help, I'm a Rock" started life as a "suite in three movements": "Okay to Tap Dance," "In Memoriam Edgar Varese" and "It Can't Happen Here." The back album cover and original master tapes from the "Freak Out!" sessions show the title as simply "Help, I'm a Rock." In the CD era, "It Can't Happen Here" began to appear as a separate track and it was included solo on some compilations.
In concert, the Mothers would mix "Help, I'm a Rock" with other early Frank Zappa numbers, such as "Hungry Freaks Daddy."
Zappa wrote in the liner notes of his sonic collage: " 'Help, I'm A Rock' is dedicated to Elvis Presley. Note the interesting formal structure and the stunning four-part barber shop harmony toward the end. Note the obvious lack of commercial potential. Ho hum."
Long term, the psychedelic workout had plenty of commercial appeal, with Zappa's bands playing it throughout the master's career. "Help, I'm a Rock" became one of the many catch phrases attached to Zappa over his career.
An abbreviated "Help, I'm a Rock" was released as the B-side to the 1966 DJ-only single "How Could I Be Such a Fool."
The studio recording's players were Zappa, Ray Collins, Black, Roy Estrada ("boy soprano") and Elliot Ingber.
---
The Zappa/Mothers store
(Primo picks from Amazon's stash)