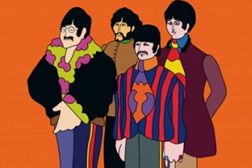 Pepperland is being invaded again, this time by the mouse-eared meanies of Disney.
Director Robert Zemeckis ("Back to the Future") will helm a new 3D version of the psychedelic animated Beatles classic "Yellow Submarine." Daily Variety, which broke the 3D "Yellow Submarine" story, says a Broadway show and Cirque du Soleil production are part of the scheme.
Rights to the original 16 Beatles songs were "key to the deal," Variety said (stating the incredibly obvious), but the reporter didn't indicate if the music had been secured. Leaks to trade papers usually go out with the approval of the deal participants, however.
At best, we get a CG update and some great Beatles songs mixed for movie theater surround. At worst, we're in for another "Sgt. Pepper's" movie experience — remember that Bee Gees-Peter Frampton nightmare? And does anyone really need to see an "improved" Blue Meanie?
To be fair the Fabs didn't have all that much to do with the original feature-length cartoon aside from the music. The Beatles did appear at the end in live action but actors did their cartoon voices, kinda dopey-like.
George Dunning, who worked on the Beatles' Saturday morning cartoon series, directed the original film. It was released in 1968 to the delight of a stoned generation. Any top 10 of psychedelic movies would include the animated feature, which was surprisingly strange and included obvious drug references.
The Beatles said they enjoyed the film.
The movie "Yellow Submarine" hasn't been treated all that well over the years, with the DVD version currently out of print. No major restoration has been undertaken, despite the opportunity to greatly update the sound. (The "Yellow Submarine" DVD
goes for about $25 on Amazon, new and "like new" from third-party sellers.)
A "Yellow Submarine" Blu-ray can be considered overdue, like so many things associated with the Fabs.
The song "Yellow Submarine" is a showstopper number in the Cirque du Soleil production of "Love," the killer remix a tease of what could be done … with the original movie.
The Beatles' catalog is coming out in a few weeks, along with the Beatles Rock Band game
.
Meanwhile, Tech Crunch just floated the idea that the long-awaited Beatles deal with iTunes could be announced on 9/09/09 as well.
There are two collections of the albums: "The Beatles Stereo Box Set"
and "The Beatles Mono Box Set"
. Individual titles are coming to market as well.
Disney hopes to release the Zemeckis "Yellow Submarine" in time for the 2012 summer Olympics, Variety said.
The news comes a month after the original movie's art director, Heinz Edelmann, died in Germany.