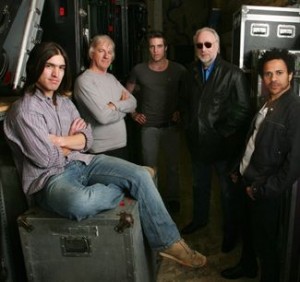 The rave-up keeps on rolling as the Yardbirds kick off a U.S. tour on Sept. 1.
Playing mostly clubs and small auditoriums, the trail-blazing British rock band will spend most of the month in the States.
---
Update
: Review of the
Yardbirds in L.A.
---
If shows of the past few years are an indication, the Yardbirds set list should include the psychedelic touchstones "Happenings 10 Years Time Ago," "Shapes of Things," "Dazed and Confused," "The Nazz Are Blue" and "Still I'm Sad."
"Happenings 10 Years Time Ago" (1966) is widely considered the first psychedelic rocker. It ranks No. 10 on this web site's list of the Top 100 Psychedelic Songs.
The Yardbirds' signature sound is the "rave-up," explained by rock critic Parke Puterbaugh thusly: "A kind of free-for-all where you jam long and hard, not as soloists, but in a tandem, until you reach an epiphany about 10 or 20 or 30 minutes later, a shuddering climax of decibels and pure energy."
The Yardbirds lineup for the U.S. tour appears to be Jim McCarty and Chris Dreja, the original group's drummer and rhythm guitarist, along with Ben King, lead guitar, Andy Mitchell, lead vocals/harmonica, and David Smale, bass guitar.
Three shows have the Yardbirds sharing the stage with the Spencer Davis Group.
The Yardbirds were inducted into the Rock and Roll Hall of Fame in 2002. Former guitarists Jeff Beck and Jimmy Page played at the induction, but the first Yardbirds guitar god, Eric Clapton, was MIA that night. Singer Keith Relf died in 1976.
Dreja and McCarty released three studio albums decades after the original bank broke up: "Birdland (2008) under the Yardbirds name, and a pair of 1980s discs with original bassist Paul Samuel-Smith using the name Box of Frogs. Beck and Page can be heard on a few of the reunion-era songs.
The new Yardbirds' recent recordings and live shows have been well received by fans and critics. Sundazed released a mono upgrade of the original Yardbirds' final album, "Little Games," at the end of last year.
USA Today reviewed a 2007 Yardbirds gig at B.B. King's club in New York:
The Yardbirds defy the odds by a) boasting a singer who sounds uncannily like the late Keith Relf, only maybe even a bit more versatile; b) continuing to employ hotshot guitarists who, if they don't completely measure up to the standards of Clapton, Beck and Page, certainly don't disgrace it; and c) playing with a solid approximation of the fire and desire of the original band.
That performance was recorded for the CD "Live At B.B. King Blues Club
."
Here are the U.S. tour dates as listed on the band's site:
Sept. 1: City Block in Springfield, Mass. (free)
Sept. 2: Infinity Music Hall in Norfolk, Ct.
Sept. 3: Tupelo Music Hall in White River Junction Vt.
Sept. 4: Tupelo Music Hall in Londonderry, NH.
Sept. 5: Mohegan Sun Casino in Uncasville, Ct.
Sept. 7: B.B. King's Blues Club in Manhattan
Sept. 8: Penn's Peak in Jim Thorpe, Penn. (with Spencer Davis)
Sept. 9: Capitol One Bank Theater in Westbury, N.Y. (with Spencer Davis and Dave Mason)
Sept. 10: Robert E. Parilla Performing Arts Center,
Rockville, Md. (with Spencer Davis)
Sept. 11: Rams Head On Stage in Annapolis, Md.
Sept. 16-17: Hawaiian dates not yet set.
Sept. 21: Key Club on Sunset Strip, West Hollywood, Calif.
Sept. 22: The Coach House in San Juan Capistrano, Calif.
Sept. 23: The Canyon in Agoura Hills Calif.
Check the Yardbirds concerts page for updates.