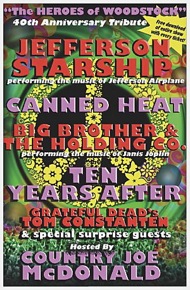 In this summer of all things Woodstock, some of the best bands from that sainted mud fest are hitting the road on a package tour.
Jefferson Starship (Airplane), Country Joe, Ten Years After, Big Brother and the Holding Company and Quicksilver Messenger Service will strive to bring back the vibes.
The 40th anniversary of Woodstock flashback experience will be less than complete, of course, with the passage of all these years. But most of these acts have stayed active over the decades and should turn in good shows.
Jefferson Starship doesn't touch down with Grace Slick or Marty Balin; Ten Years After performs without Alvin Lee these days; Canned Heat's key talent died back in the day; Big Brother continues on without Janis Joplin; and the psychedelic Fish have long since disappeared from folk singer Country Joe's bucket.
The Heroes of Woodstock show stops in Bethel, N.Y. (nearest city to the Woodstock fest) on Aug. 15. Kicking it up for that anniversary event will be Levon Helm (the Band) and Mountain.
Key tour stops include New York City (Aug. 12), Philadelphia (Aug. 18), Los Angeles (Aug. 23) and the Sausalito Arts Festival (Sept. 7). Expect to see most but not all artists at each stop.
The tour operates with a license from Woodstock Ventures and has the corporate backing of Warner Bros., which has released a new version of the "Woodstock" movie, as well as its label Rhino, which plans a massive CD box set of the festival's performances.
Meanwhile, the fourth edition of Hippiefest returns to the road July 21, running through Aug. 16.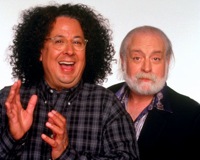 Artists are marginally in the psychedelic arena, if at all, but '60s music fans should be pleased to catch up with Mountain, Felix Cavaliere (Rascals), Mitch Ryder, Brewer and Shipley, Chuck Negron (Three Dog Night) and Joe Molland of Badfinger.
Last year's Hippiefest included Jack Bruce of Cream, who wandered through some of the legendary power trio's more esoteric songs. Also aboard were Eric Burden and his latest rendition of the Animals.
The hosts are the lovely Flo & Eddie (pictured), who always come prepared with plenty of acid casualty jokes. They'll sing their Turtles hits, which hold up brilliantly as performed by their spot-on band. Last year, the whacked-out duo ordered everyone under 21 out of the Greek Theatre, sort of kidding.
Major tour stops for Hippiefest are in Detroit (July 21), Baltimore (July 23), Minneapolis (July 28), L.A. (July 31), San Diego (Aug. 2) and Fort Lauderdale (Aug. 16).
If you've seen the shows, please post a short review via the comments. Psychedelic Sight will behold the concerts in L.A.
Read the 2008 Hippiefest concert review.