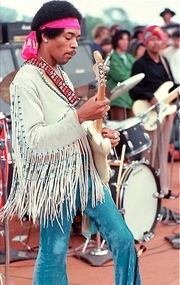 "Woodstock," the DVD: Four hours of peace and music, along with a righteous stash of unseen performances.
Warner is about to release Blu-ray and DVD editions of the remastered hippie classic "Woodstock: 3 Days of Peace & Music" in honor of of the mudfest's 40th anniversary (Aug. 15-18, 1969).
About time. While "Monterey Pop" thrived on Blu-ray and DVD (Criterion), "Woodstock" has been stuck in the video muck since 1999.
Warner says the mother of all concert films was restored and "remastered from original elements and scanned at 2K with audio 5.1 mix supervised by director Michael Wadleigh." This extended director's cut dates back to 1994.
"The concert original chief engineer Eddie Kramer, who was on-site for the festival, is overseeing the audio mix of all of the recently found added footage." Audio specs are Dolby TrueHD 5.1 for the DVD and DTS-HD Lossless Master Audio 5.1 for the Blu-ray. Images have been scanned at 2K.
"Newly discovered" performances included in the set come from the Who, Joe Cocker, Canned Heat, Joan Baez and Country Joe & the Fish, adding up to about two hours. There will be 18 bonus performances from 13 acts:
Grateful Dead: "Turn on Your Love Light"*
Creedence Clearwater Revival: "Born on the Bayou," "I Put a Spell on You," "Keep on Chooglin' "*
Johnny Winter: "Mean Town Blues"*
Mountain: "Beside the Sea" and "Southbound Train"*
Paul Butterfield Blues Band: "Morning Sunrise"*
Canned Heat: "I'm Her Man," "On the Road Again"
Santana: "Evil Ways"
The Who: "My Generation," "We're Not Going To Take It"
Jefferson Airplane: "3/5 of a Mile in 10 Seconds"
Joe Cocker: "Something's Coming On"
Joan Baez: "One Day at a Time"
Country Joe McDonald: "Flying High"
Sha Na Na: "Teen Angel"
* = not in original film — Sorry, no Janis Joplin.
Among the many extras are the new documentaries "The Museum at Bethelwoods: The Story of the Sixties & Woodstock," "Woodstock: Untold Stories," "Woodstock: From Festival to Feature." The bonus material is full of "reflections and perspectives from musicians, celebrities, influencers and other giants in the entertainment industry," Warner said. No doubt we'll be hearing from Martin Scorsese, who worked a camera for "Woodstock."
The Blu-ray will include a "Customize Your Own Woodstock Playlist" feature and a "live community screening."
Warner plans several editions: a DVD Ultimate Collector's Edition, a limited numbered Blu-ray and a stripped-down double-disc DVD that doesn't have the bonus performances.
"Monterey Pop" has seen a great deal of effort put into its DVD box set and CDs in recent years, but Woodstock pretty much just sat there in the DVD era. It'll continue to sit, as the film has some kind of moratorium in effect until the new set's release.
Woodstock has its share of dog performances, but these are among the highlights in the movie: Jimi Hendrix's "Star Spangled Banner," Santana's "Soul Sacrifice," Ten Years After's blistering "I'm Going Home," Sly and the Family Stone's "Dance to the Music/Music Lover/I Want to Take You Higher" and Richie Havens' "Freedom."
Fans of the man with the guitar should check out the excellent "Jimi Hendrix: Live at Woodstock."
Criterion's "The Complete Monterey Pop Festival" packed in a generous collection of previously ignored performers in its extras, setting the standard for this sort of thing.
Warner's 1997 release of "Woodstock" was largely viewed as a bummer, so this DVD/Blu-ray release comes to us overdue and quite welcome.
An interesting DVD release from that neck of the woods is "Woodstock 1999," well worth a rental to see some of today's top rockers in their early years.
A tale of woe: I was not at Woodstock. Here is the excuse: I was headed to the festival with my two pals, until my parents got super-pissed about something and grounded me for the rest of the summer. … Everyone from the '60s has a Woodstock story, it seems.