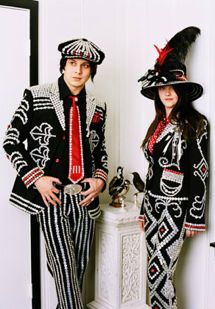 The White Stripes wail no more, but Jack White continues to put out some of the duo's recordings in limited formats. This time, he's gone public with a pair of covers, including the druggie Love classic "Signed D.C."
The White Stripes' version of "Signed D.C." can be heard on YouTube (see bottom of post). Earlier, it was released as a 7-inch vinyl under the band's From the Vault paid-subscription series, via Third Man Records.
A suitably rough recording, it features White on acoustic guitar and vocals, with Meg White (apparently) playing tambourine. There is no harmonica, as heard on Love's recording.
White also released to YouTube his take on Otis Redding's "I've Been Loving You Too Long."
In a similar vein, White's band the Raconteurs previously covered British singer Terry Reid with "Rich Kid Blues," originally released in 1969. (Reid, a bit of a raconteur himself, tells audiences that the popular 2008 cover inspired him to call up White in hopes of working together. White never called back, Reid says with a sheepish grin.)
"Signed D.C." appeared on Love's first album. John Einarson, who wrote the Lee biography "Forever Changes: Arthur Lee and the Book of Love,"
describes the original track like so:
With its stark instrumentation, featuring just Arthur alone on acoustic guitar and harmonica, the song offered a harrowing anti-drug message drawn from the real-life experience of drummer Don Conka — the titular D.C.
"When I wrote the song, I heard the Animals' 'The House of the Rising Sun,' " Lee said in an interview. It was inspired by some of the people who hung out with the band in its early days — strung out on methadone or heroin.
The White Stripes' "I've Been Loving You Too Long" sounds a lot rougher than "Signed D.C." with a bit of feedback and White's tentative vocals. Meg White plods along on drums.
(Hat tip to Uncut.)