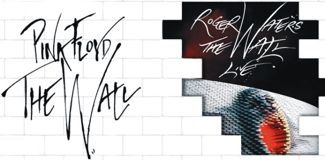 "There is no anti-Semitism in 'The Wall' show," psychedelic rock star Roger Waters fumes, in response to criticisms from the ADL.
Waters, currently touring with his re-creation of Pink Floyd's classic album, said the national director of the Anti Defamation League should come to the show and see for himself before making "a serious charge" of anti-Semitism.
ADL chief Abraham Foxman objected to an animated video sequence in the "Wall" concert that showed a B-52 bomber dropping stars of David on a ravaged landscape, quickly followed by dollar signs.
"The meaning could easily be misunderstood as a comment about Jews and money," Foxman said in a statement. … The images he has chosen, when put together in the same sequence, cross a line into anti-Semitism." The ADL leader called it an "outrageous" juxtaposition that played into the stereotype of money-obsessed Jews.
Other symbols that fall from the bomber during the "Goodbye Blue Sky" segment include a Shell Oil logo, a crucifix and a Muslim crescent. (Video of "The Wall" segment below.)
"There are no hidden meanings in the order or juxtaposition of these symbols," Waters replied on his web site. "The point I am trying to make in the song is that the bombardment we are all subject to by conflicting religious, political, and economic ideologies only encourages us to turn against one another."
Rogers said he had never heard of the ADL before Foxman's public comments.
The rocker has long supported Palestinian rights. He frequently criticized Israel's barrier around the West Bank during a 2009 tour of Israel. Last summer, he and fellow Pink Floyd leader David Gilmour reunited for an informal show benefiting the Hoping Foundation, which supports Palestinian children and youth in refugee camps. (Article continues below video.)
"The Wall" tour began Sept. 15. Most major U.S. and Canadian cities are on the tour schedule, including Chicago, Los Angeles and New York.
Pink Floyd fans of a certain age remember the band touring the double-disc concept LP in 1980. A 40-foot brick wall was constructed during the show, as inflatable animals drifted overhead — including the famed Orwellian pig that resurfaced a few years back in the film "Children of Men." As the concert concluded, the wall came tumbling down, revealing the band once again.
Waters has said the new production of "The Wall" provides "an allegory for broader concerns: nationalism, racism, sexism, religion."