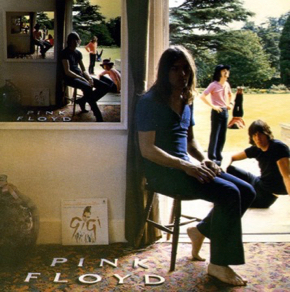 Here be dragons. Dragons, and dust from the bones of kings and traitors. Stonehenge. The funk of 4,000 years. Spacemen and madmen.
Your mental movie may vary. Hear in it what you will, but English psychedelic music peaked here, courtesy of the sonic beast that was Pink Floyd circa 1969 — captured live and in full throat on disc 1 of "Ummagumma," the band's polarizing third album.
"Ummagumma" could have been the greatest live psychedelic music album of them all, and perhaps it still is, by default.
But before that discussion we must dispense with disc 1's sad-sack sibling, a studio vanity project that gave each member of the quartet his own album side to flail about. Consider that one the "Ummagumma" bonus CD, odds & sods for hardcore fans. A record to be played once a decade, if that. Even the band hated it. Onward.
The "Ummagumma" live disc consists of four spellbinding tracks, easily thought of as a piece if not a song cycle:
They are Syd Barrett's "Astronomy Domine" from the first album; Roger Waters' B-side "Careful with That Axe, Eugene"; Waters' "Set the Controls for the Heart of the Sun" from the second album, "A Saucerful of Secrets"; and the song "A Saucerful of Secrets."
None of the CD versions, unfortunately, added a live "Interstellar Overdrive," which had been in the works for the original double LP but was dumped when the second record was dedicated to the studio tracks.
The live tracks were recorded in Birmingham, England, on April 27, 1969, and in Manchester on May 2. All four are, arguably, definitive versions, surpassing their studio originals.
The shows caught Pink Floyd almost exactly a year after the loss of Barrett, a genius and acid casualty. Guitarist David Gilmour had been fully integrated but had yet to step into his fluid signature sound. The Brit pop touches of the band's first incarnation had been discarded in favor of whisper-to-a-scream dynamics and muscular hard rock, heavy on the bass and drums.
"Stars can frighten," Barrett warned in the first verse of "Astronomy Domine." His ex-bandmates carried on with the sci-fi paranoia, true to the time of "2001: A Space Odyssey." Space rock began here, many say. The 8:33 live version is less frantic than the studio original, but more menacing. Like most of Barrett's work, it's borderline catchy — dance music for the demented. Gilmour takes over on high-end vocals while replicating much of Barrett's original guitar playing, but adds some of the slide for which he'll later become famed.
"Careful With That Axe, Eugene" continues the spooky vibe, with Richard Wright's electric organ work bringing to mind a funeral Hammer Film soundtrack. Three minutes of creepy foreplay erupts into the screaming of an ax murderer's prey. Gilmour serves as henchman, a butcher working six steel strings. Repeated listening doesn't lessen the impact of Waters' shrieking middle section, which mercifully slows to several minutes of what the impressionistic mind could see as post-carnage twitching and gurgling. A horror film, wordless and Bible black.
Despite the title, Waters' "Set the Controls for the Heart of the Sun" doesn't qualify as space rock — the lyrics refer mostly to Earthly plant life and were lifted from ancient Chinese poetry — yet the song's whispered singing and timpani drumming evoke Stanley Kubrick's extraterrestrial chill. Keyboardist Wright takes over midsong, his sci-fi effects whirling up sonic solar winds. Tribal drums and Arabic instrumental accents. Remarkable.
Drummer Nick Mason gets the era's obligatory drum solo spot in the 13-minute instrumental "A Saucerful of Secrets." The thumping ultimately elevated by the audio freakouts of Gilmour and Wright. An elegiac passage segues into something out of a spaghetti western, starring the guitarist's anthemic wordless vocals. (We've somehow gone from Kubrick to Leone.) The number has four parts and has been described by Waters as a chronicle of a battle.
Intentional or not, the live "Ummagumma" succeeds as a conceptual piece, with a continuity interrupted but not compromised by some brief audience applause. Four songs. Forty minutes. Pink Floyd would go on to global acclaim for its "concept album" rock, but none of the works exhibited the grace, control of chaos and primal mystery of what was assembled here.
Liner notes: Three of the four songs played live on "Ummagumma" turned up in the concert film "Live at Pompeii" (1972), another essential document of Pink Floyd before the "Dark Side of the Moon" era. … The 2011 remaster of the double album greatly enhanced sonics on the studio section of "Ummagumma," but didn't do much for the famously muddy live tracks. … The Pink Floyd tours of 1968 and 1969 were heavily bootlegged; some fans believe these boots hold even better versions of the "Ummagumma" live tracks. The presence of lengthy versions of "Interstellar Overdrive" argues for its inclusion on "Ummagumma." … Be happy with four, however: Cassette versions of "Ummagumma" cut some of the live tracks for space. … And what, exactly, is "Ummagumma"? Tempting to link it with the ancient word Ummah, for spiritual community, but it's just some roadie's term for fucking.
More Pink Floyd content: