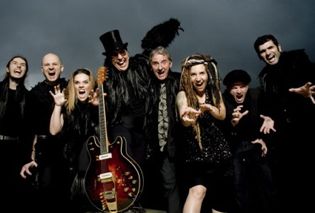 Brazilian psychedelic rockers Os Mutantes spring back to life this fall with their first album of new music in 3 1/2 decades and a tour of North America.
The recently recorded "Haih or Amortecedor
" is due Sept. 8 on Anti-Records. The band's tour then begins in L.A. and ends in Austin, Texas, the nation's two indie music capitals.
Os Mutantes were the Flaming Lips of the '60s, given to psychedelia, fantasy, found sounds, musical collages and prog rock. They often wore odd costumes on stage, mocking the military governments that ruled their country for decades to come. They were key players in the counterculture Tropicalismo movement that grew up after Brazil's 1964 coup d'etat.
Their best-known song is "Minha Menina" from the debut album, "Os Mutantes." About a dozen albums are in print in the U.S., largely due to top indie musicians' props to the band over the past decade.
The core band recently consisted of three longtime members: Arnaldo Baptista and Sergio Dias, the founding brothers, and drummer Dinho Leme. The singer Zélia Duncan has performed with them in recent years, along with a pack of supporting musicians. A recent song featured female vocalist Bia Mendes and male vocalist Fabio Recco.
Founding singer Rita Lee, who has enjoyed a long solo career, no longer performs with the band. She has praised and condemned the new Os Mutantes, once saying she did not want to be associated with "a bunch of old guys raising money for their geriatric treatments." (continued)
The band began as a trio of telegenic Sao Paulo teenagers in 1965. They were big Beatles fans and were drawn into experimental music as their British idols flirted with the weird. Os Mutantes also performed more traditional music and recorded with Gilberto Gil. Drugs and the usual personnel clashes led to the band's breakup in 1978.
Sergio Dias has been the constant in the band. The new album featured longtime collaborators Tom Zé and Jorge Ben.
In 2007, Os Mutantes returned and played Brazil for the first time in 30 years, performing for 100,000 fans. The reconstituted band also performed the year earlier in London
and at the Hollywood Bowl as support for Flaming Lips.
Their fans included Kurt Cobain, David Byrne, Devendra Banhart, Nelly Furtado, the Flaming Lips and many other indie artists. Beck named his 1998 album "Mutations" — featuring the lead single, "Tropicalia." Byrne released a greatest-hits album — "Everything Is Possible"
— on his label.
Sergio Dias on the new album:
Living the conception and birth of this album, as an individual, was the most intense experience, for it was as if time has ceased to exist, and I was bouncing from life to life, decades through decades, revisiting myself as a 16-year-old boy playing guitar and feeling so free and, as any teenager, indestructible.
Here are the Os Mutantes 2009 tour dates:
Aug. 28: Los Angeles, The Echoplex
Aug. 29: San Francisco, Outside Lands Festival
Sept. 1: Redway, Calif., Mateel Community Center
Sept. 2: Portland Ore., Aladdin Theater
Sept. 3: Vancouver, the Commodore Ballroom
Sept. 4: Bellingham, Wash., the Nightlight
Sept. 5: Seattle, Bumbershoot Festival
Sept. 19: Yosemite California, Symbiosis Fest
Sept. 24: Denver, Cervantes
Sept. 25: Omaha, Waiting Room
Sept. 26: Minneapolis, Cedar Cultural Center
Sept. 30: Cleveland, Beachland Ballroom
Oct. 4: Boston, Sommerville Theater
Oct. 8: New York, Webster Theater
?Oct. 9: Pittsburgh, Mr. Smalls
Oct. 10: Columbus, Ohio, Capitol Theater
Oct. 11: Lexington, Ky. WRFL Fest
Oct. 13: Tampa, Skipper's
Oct. 14: Ft. Lauderdale, Culture Room
Oct. 16: Atlanta, Variety Playhouse
Oct. 17: New Orleans, Tipitina's
?Oct. 18: Austin Texas, La Zona Rosa