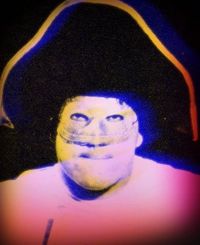 As 1966 ushered in the psychedelic era, a New York songwriter got stoned and decided to check out his mind. The result was one of the most sinister and bizarre novelty songs of all time: "They're Coming to Take Me Away Ha-Haaa!"
Who could say how many bad trips this twisted piece of work wrought back in the day.
Working as "Napolean XIV," Jerry Samuels rapped the story of a man driven insane by the disappearance of his girlfriend (or, ahem, dog).
Borrowing a trick from "The Chipmunks" novelty records ("Alvin!!!"), Samuels used a variable frequency oscillator to speed his voice to various maniacal levels. He addressed the evil woman (or faithless dog) in first person:
Remember when you ran away and I got on my knees and begged you not to
leave because I'd go berserk? Well …
You left me anyhow and then the days got worse and worse and now you see
I've gone completely out of my mind. And …
They're coming to take me away, ha-haaa!!? They're coming to take me away, ho-ho, hee-hee, ha-haaa?
To the funny farm. Where life is beautiful all the time …
Adding to the intensity was a self-made drum loop that recalled Bob Dylan's propulsive "Rainy Day Women," released four months earlier. Samuels points out it actually comes from the Scottish march "The Campbells Are Coming" (listen).
Samuels says that during recording he realized he was writing a truly sick song, and put it aside. It wouldn't die. Later, in an attempt to leaven the creepiness factor, he added a line about the offender being a "mangy mutt." It didn't help much.
Kids loved it regardless. "They're Coming to Take Me Away Ha-Haaa!" shot to the top of the charts, pounding out of jukeboxes and car radios nationwide.
Adding to the bizarre history, Napolean XIV used a backward version of the song as the B-side of the 45. "!aaaH-aH ,yawA eM ekaT oT gnimoC er'yehT" was a forerunner of the "Rick Roll" meme, with kids eagerly inflicting it on captive audiences, such as people eating in diners. The rock critic Dave Marsh dubbed this backward menace "the most obnoxious song ever to appear in a jukebox."
The A-side single, meanwhile, was banned by various radio stations, including WMCA and WABC in New York. "It was a hit before it got banned," Samuels said. "Once it got banned, it was finished."
Jerry Samuels, who performs standards and such these days, discussed the making of "They're Coming to Take Me Away, Ha-Haaa!" in a definitive Napolean XIV interview posted by Song Facts.
Rhino reissued the Napolean XIV album in the 1980s and then again in expanded form in the 1990s ("The Second Coming.")
This most twisted of novelty songs lives on today, having lost none of its sonic jolt. It has inspired various YouTube shorts and covers by indie bands such as Lard and Neurotic Fish (below). Let's just hope Tarantino doesn't get his hands on it.