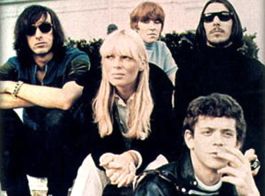 Velvet Underground members Lou Reed, Maureen (Moe) Tucker and Doug Yule are reuniting, sort of.
The art rockers will discuss their music and history Dec. 8 as part of the New York Public Library's "Live From the NYPL" series. The conversation wrangler will be rock journalist David Fricke.
The gathering of three Velvets is quite unusual — the Library calls it "unprecedented." MIA is (to no one's suprise) John Cale, who has performed with the band only a few times since the 1970s. Sterling Morrison and Nico have both died.
Update: View the session:
The Velvet Underground probably wouldn't have made it out of the underground without the artwork on its 1966 debut album by band backer Andy Warhol. That yellow banana and the rest of the artifacts connected with the band are celebrated in the new book "The Velvet Underground: New York Art."
The talk is sold out, alas (tickets "may" be available at the door).
Meanwhile, fans can revisit the band's formative years with the short-but-sweet audio documentary series "Psychedelics" from Seattle's KEXP. The series, which just wrapped, covers the Byrds, Jefferson Airplane, the Velvet Underground, the Beatles, Sly and the Family Stone, Pink Floyd, the Orb, Spiritualized, the Flaming Lips and Animal Collective.
The Velvet Underground radio docu covers the band's history, starting with Warhol's traveling multimedia experience The Exploding Plastic Inevitable. Reed recalls: "It was an interesting conglomeration. We were known all the way downtown, and then a lot of the uptown people came to it." Cale says, "It was an attempt to be revolutionary. It was an attempt to combine both the avant-garde and the commercial."
The Velvets, positioned as an East Coast answer to the California psychedelic bands, turned to heroin, not LSD. The band's songs such as "Heroin" and "Waiting for the Man" generated some minor media shockwaves at the time, when drug references almost always were cloaked in rock music. The street-level reporting in Reed's lyrics had nothing to do with peace and love, but plenty to do with reality.
Their early music was darkly experimental and trance-like, largely due to Cale's interest in the droning musical styles of India and Tucker's primitive drumming style, oriented more toward Africa than U.S./U.K. rock. This before the music of Ravi Shankar and other world musicians was widely heard in the West.