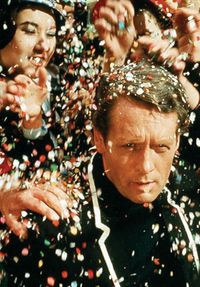 Before the Beatles got lost with their "Magical Mystery Tour" TV show, they had a more promising psychedelic screen project in mind: a follow-up to "Help" that was on the same wavelength as "The Prisoner."
George Harrison's son Dhani Harrison told Wired: "They were going to be in a movie written and directed by Patrick McGoohan in the same vein as 'The Prisoner,' because they thought it was one of the best series ever. They were so into his psychedelic weirdness."
The project never happened, of course, but the Fabs did license "All You Need Is Love" for the McGoohan series' surreal finale, the only time a Beatles song popped up on a TV show at the time.
"The Prisoner" is back with us these days thanks in part to the AMC miniseries that updates the '60s psych-spy series. While the new six-episode series has its moments — provided mainly by No. 2 actor Ian McKellen — the big event is the Blu-ray release of the original 17-episode series, from A&E. "The Prisoner: The Complete Series" delivers what is probably the best-quality presentation of the series, ever.
The series was hands down the most psychedelically influenced TV series of the era, with frequent detours into mind-expanding plot points and imagery. To this day, it is the strangest series ever broadcast by CBS.
McGoohan and company shared studio space with Kubrick's "2001," another mind-blower, with the TV series even lifting some space shots from the master filmmaker.
"Twin Peaks" certainly showed the influence of "The Prisoner," as do the movies of David Cronenberg, who cast creator McGoohan in one of his projects.
"The Prisoner's" influence on musicians continues to this day. Wikipedia lists at least 20 instances of tributes to the show, starting with the 18-minute song "McGoohan's Blues" by English seeker Roy Harper. The Clash's "The Prisoner" was about the series. XTC and Supergrass are among the bands that shot "Prisoner"-driven music videos, on location in Portmeirion.
Extras on the Blu-ray set include crew commentaries, in which some of the key players discuss dropping acid on the set. CBS refused to air one of the episodes because of its depiction of hallucinogenic drugs.
On Blu-ray, the op art/pop art imagery of "The Prisoner" leaps from the screen. Colors are bold and vivid, yet not oversaturated. The clarity is remarkable, almost too good — the actors' perspiration and skin blemishes are borderline distracting (the kind of thing industry folks fretted about in the early days of HD).
Audio is OK, whether you choose the 5.1 track (with its once-over-lightly mix) or the 2.0 mono. The audio does have bouts of that tinniness associated with pop soundtracks of the day.