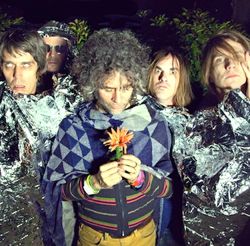 The Flaming Lips explore their dark side with the release of "The Terror" on April 16. Frontman Wayne Coyne tells fans to brace themselves for "a bleak, disturbing record."
The Lips — the highest-profile band creating psychedelic music these days — have released at least a dozen other albums over their 30-year history. The latest project under the Lips banner was a mostly faithful re-creation of King Crimson's 1969 stunner "In the Court of the Crimson King."
The Flaming Lips and the new music are set for a big-time promo push with their appearance in a Super Bowl commercial for Hyundai. The ad features the propulsive track "Sun Blows Up Today," which is not officially on the new album. Beginning Tuesday, however, fans who preorder "The Terror" on the iTunes Store get the track as an immediate bonus.
You can hear the bonus song "Sun Blows Up Today" right here, right now: (text continues)
Coyne cheerfully strokes the commercial flames with this summation of the new album:
"The Terror," we know now, (is) that even without love, life goes on. … We just go on. … There is no mercy killing.
Doom and gloom are nothing new to the Flaming Lips, despite their day-glow image and love of gimmickry. "Death is the only thing worth singing about," Coyne told an interviewer last summer. And who could forget the memory-stick tracks wrapped in gummy skulls and fetuses?
The new album, on Warner Bros., was produced by longtime collaborator Dave Fridmann and the band at Tarbox Road Studios in New York. Although the group has engaged in multiple side projects, this is the first full album release since "Embryonic" in 2009.
Here's the track listing for "The Terror":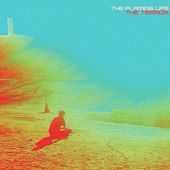 Look … The Sun Is Rising

Be Free, a Way

Try To Explain

You Lust

The Terror

You Are Alone

Butterfly, How Long It Takes To Die

Turning Violent
Always There … In Our Hearts