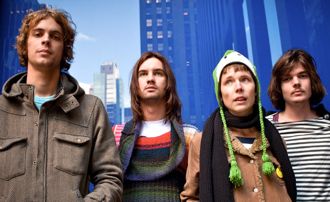 Tame Impala and Flaming Lips are teaming up for a series of East Coast shows in the fall. The concerts, part of longer tours for both acts, bring together the highest-profile modern bands specializing in psychedelic music.
New York City hosts two of the five shows.
Tame Impala of Perth, Australia, describe themselves as makers of "psychedelic hypno-groove melodic rock music." The band is fronted by Kevin Parker. The second Tame Impala album, "Lonerism," was released last October. Rolling Stone dubbed it the album of the year, an honor it also bestowed on the band's "Innerspeaker" in 2011.
Tame Impala's Parker (pictured, second from left) was born about the time the Flaming Lips started making records. His influences include Cream, Jefferson Airplane and Blue Cheer.
The Flaming Lips have carried the freak flag in the U.S. since the mid-1980s. The band out of Oklahoma City is fronted by Wayne Coyne. The Flaming Lips have been touring behind "The Terror," released in April.
Parker collaborated with Flaming Lips on the track "Children of the Moon" in 2012, for the album "The Flaming Lips and Heady Fwends."
News of the joint shows was posted on the bands' web sites June 25.
The Tame Impala-Flaming Lips shows begin in late September:
Sept. 30: Boston, Agganis Arena
Oct. 1: New York, Terminal 5
Oct. 2: New York, Terminal 5
Oct. 3 Philadelphia, Penn's Landing, Festival Pier
Oct. 4 Columbia, Md., Merriweather Post Pavilion
The Flaming Lips then take their roadshow to Japan.
Tame Impala's fall tour of the U.S. continues through the month of October:
Oct. 6: Austin, Texas, ACL Festival (Austin City Limits)
Oct. 8: St. Louis, Mo., the Pageant
Oct. 9: Madison, Wisc., Orpheum Theater
Oct. 10: Chicago, Ill., Riviera Theater
Oct. 11: Kansas City, Mo., Starlight Theater
Oct. 12: Dallas, South Side Ballroom
Oct. 13: Austin, ACL Festival
Oct. 26: Boulder, Colo., Boulder Theater
Oct. 27: Denver, Ogden Theater
Tame Impala will spend most of the summer touring Europe, while the Flaming Lips are working the States. View more summer psychedelic concert dates.
Read more about the Flaming Lips:
The Flaming Lips web site