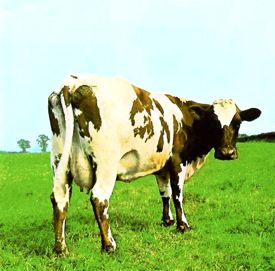 British graphic designer Storm Thorgerson, best known for his artwork on Pink Floyd albums such as "The Dark Side of the Moon," has died at age 69.
Pink Floyd guitarist David Gilmour, a friend since early teen years, said Thorgerson's album covers were "an inseparable part of our work."
Drummer Nick Mason remembered Thorgerson as a "scourge of management, record companies and album-sleeve printers; champion of bands, music, great ideas and high, sometimes infuriatingly high, standards."
Thorgerson also designed cover art for many of the U.K. rock elite, including Yes, Led Zeppelin, Genesis, the Nice, Black Sabbath, Mike Oldfield, 10cc and Alan Parsons.
Thorgerson's close and long-running association with Pink Floyd made him one of only a few graphic artists whose fame can be traced back to a single band — similar to Roger Dean, creator of fantastic landscapes for Yes.
Influenced by the surrealist Man Ray, he favored odd juxtapositions such as 700-some hospital beds set up on a beach, for Pink Floyd's 1987 "A Momentary Lapse of Reason". His concept for the psychedelic band's "Animals" resulted in a famous dada moment in which a giant pig balloon floated over a southwest London power station, breaking free to threaten air traffic.
For 1970's "Atom Heart Mother," he used a simple but vaguely troubling photo of a cow standing in a field, rear end and udders prominent.
He wasn't a fan of having bands pose for their album covers. "Why would you have four chaps on the front?" he asked. "What does that say about the music?"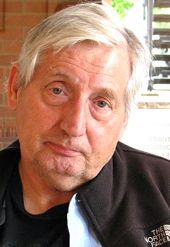 Thorgerson met the Pink Floyd core of Gilmour, Syd Barrett and Roger Waters as teenagers in Cambridge. His first cover for the band was their second album, "A Saucerful of Secrets" (1968).
"He has been a constant force in my life, both at work and in private, a shoulder to cry on and a great friend," Gilmour said in a statement on the Pink Floyd web site.
Mason said the designer was a "defender of art over commerce at all times, and tireless worker right up to the end."
Many of the album covers were done under the creative handle Hipgnosis, a visual arts company Thorgerson formed with Aubrey Powell. Their work was celebrated in the book "For the Love of Vinyl: The Album Art of Hipgnosis."
"Storm's ideas were extraordinary, but the execution even more so," Powell wrote in a tribute printed in the Guardian. "He insisted on creating real sculptures for each of his projects. Everything had to be built and photographed in situ to a size determined by the idea. No fakery, no Photoshop, or no deal."
Powell noted that some clients, such as Paul McCartney, objected to Thorgerson's curious concepts, which typically had nothing to do with the music on offer. Still, "clients remained steadfastly attached to Storm."
Thorgerson, who died April 18, was battling cancer, his family said.