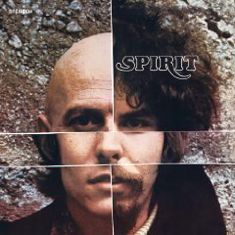 The great and criminally underappreciated L.A. band Spirit rarely makes the list of the '60s psychedelic groups.
These days Spirit mostly is remembered for "Nature's Way," an FM radio classic. It's a wistful midtempo plea for ecological sanity that appeared on the original band's fourth and final album.
Two years before "Nature's Way," in 1968, a much heavier Spirit blasted its way onto the scene with another ecological warning, this one awash in psychedelic touches and heavy guitar.
The band sang:
Look beneath your lid some morning
See those things you didn't quite consume
The world's a can
for your fresh garbage
That serving of tight, light-heavy rock soon was followed by the dark psychedelic masterpiece "Mechanical World."
As a one-two punch, these side 1 tracks from the album "Spirit"
rank up there with any psychedelic concoctions served up in 1967 or 1968 by Hendrix, Cream or the San Francisco bands.
Spirit never settled for only one style, however, and its first album reflected the bandmembers' backgrounds in jazz, blues, ethnic music, folk and hard rock. The distorted guitar and overlaid reverb of "Fresh Garbage," for example, retreats for a midsong jazz piano break by John Locke, who'd played in a jazz combo with drummer Ed Cassidy.
You could make the argument that anything guitarist Randy California played sprung from a seed of psychedelia. For good reason.
At age 15, the guitarist hooked up with an undiscovered Jimi Hendrix.
"I paid a visit to Manny's Music in Manhattan," California wrote in the liner notes to the "Spirit" CD. "It was there, in the back of the store jamming on a white Stratocraster, I saw Jimi James. Our eyes met and time seemed to stop" (cue swelling music).
Young California joined Jimi James and the Blue Sparks, playing Cafe Wha in Greenwich Village for three months. When Hendrix left for England, the teenage guitarist's mom said he couldn't go.
How much of Hendrix came from California — and how much of California came from Hendrix — remains a mystery since neither had made solo recordings at this point. Someone who'd never heard the album "Spirit" probably could be convinced that Hendrix played guitar.
On the 5-plus-minute "Mechanical World," California delivers two jaw-dropping solos, the first among his best. At one point his heavy-sustain guitar soars until it's unbearable — then crashes to the ground to great dramatic effect.
In fact, everything "Mechanical World" is played for maximum drama. Jay Ferguson's vocals sound as if they were summoned from the grave. The funeral drums send home the lyric: "Death falls so heavy on my soul/Death falls so heavy, makes me moan."
The strings of arranger Marty Paich do a graveyard dance with California's guitar, sometimes playing in unison. The song ends as if it were the soundtrack to a film, with elegiac strings ushering out the listener — until a final guitar/drums burst puts the nail in the coffin.
"Mechanical World" ranks No. 34 on the list of best psychedelic rock songs.
In spots, "Mechanical World" anticipates Led Zeppelin's "Kashmir" of 1975, bringing us to the next song …
"Taurus," written by California, is a lovely instrumental, built around fingerpicked guitar arpeggios. Heard fresh today, the number would be perceived as a loose "Stairway to Heaven" cover.
But Led Zeppelin recorded "Stairway" three years after "Taurus," the classic power ballad arguably another in the long line of Zep's "borrowed" songs.
California wrote in the "Spirit" liner notes that fans often asked about the similarity and he responded by saying the bands toured together in their early years and that Led Zeppelin covered "Fresh Garbage" as part of a hard-rock medley.
Update: Led Zeppelin was cleared of copyright violation in 2016, as part of a case brought by California's estate. /update
"Girl in Your Eye" makes precise use of the Indian sitar sound introduced to rock only a year before. Producer Lou Adler worked with the Mamas and Papas during this period and brought a tight aesthetic to many of these songs. Even the longer psychedelic numbers had snap.
"Uncle Jack," a hard-rocker with a faint English accent, sounds like one of Noel Redding's contributions to the Jimi Hendrix Experience (Redding would later play with California). It features a great double-tracked solo by California.
"Straight Arrow" was written about bassist Mark Andes' actor father. "Topanga Windows" re-creates the band's communal experience in the L.A.-area canyon. "The Great Canyon Fire in General" (more Topanga) features more heavy California licks set amidst a heady swirl of drums and piano.
The 11-minute instrumental "Elija" salutes free jazz and, perhaps, Frank Zappa. Its midsection brings to mind King Crimson. The Butterfield Blues Band's "East-West" of 1966 almost surely provided inspiration.
Unreleased tracks on Epic's 1996 reissue of the "Spirit" CD show more of the band's jazz roots, with the prog rock blast "Verusaka" and the straight-ahead "Free Spirit."
Jazz was just starting to appear in rock, with Spirit among the earliest purveyors of what came to be known as jazz rock, along with Donovan and Al Kooper's Blood Sweat and Tears.
update: The debut Spirit album was being prepared for release on hybrid SACD in the spring of 2017. The other three Spirit albums were to follow. /update
(This review was written in the foothills of Topanga Canyon. All references to Spirit indicate the original classic lineup, although Randy California and his stepfather, Cassidy, continued to use the name for their bands.)