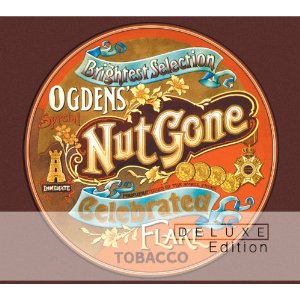 The celebration of Britain's the Small Faces continues with the rerelease of their original albums, including "Ogdens' Nut Gone Flake," the group's psychedelic touchstone of 1968.
The three-CD "Ogden's Nut Gone Flake: Deluxe Edtition"
officially drops in the U.S. on July 3, although Amazon U.S. currently carries it as an import. The recording went on sale in Britain on May 7.
The Small Faces (along with Faces) were inducted into the Rock and Roll Hall of Fame on April 14.
"Ogdens' Nut Gone Flake" was famed in 1968 even by those who hadn't heard the music. The circular unfolding cover, based on an old tobacco tin, proved both odd and revolutionary. Stoners loved it, along with the album's trippy second side tied together by the babbling of U.K. comic Stanley Unwin.
Decades later, the concept album's key song, "Lazy Sunday," resurfaced as the inspiration for a "Saturday Night Live" video that went super-viral.
The Small Faces are best known for the heavily phased single "Itchycoo Park," which, unfortunately, wasn't included on the album despite being recorded a few months before. That pop psychedelic classic's spirit and production style infuse the album, however.
While "Nut Gone Flake" has solid psychedelic era cred, the Small Faces were very much a soulful rock and roll band. The ringleaders were singers Ronnie Lane (bass) and Steve Mariott (guitar). The group spanned the mod and psychedelic eras of the 1960s but remained relatively unknown in the States. Lane later found Stateside success with Faces (Rod Stewart), while Mariott worked the colonies with Humble Pie.
The two surviving Small Faces members — keyboardist Ian McLagan and drummer Kenney Jones — participated in the Small Faces remasters project, with some multitracks coming from Jones' collection. (Jones reports that many tapes have been stolen.)
The Ultimate CD Edition is limited to 5,000 copies, distributor Universal says.
Disc 1 contains the mono version of the album. Disc 2 presents 14 sonic artifacts, including alternate mixes and backing tracks. Disc 3 has the stereo version of "Ogdens' Nut Gone Flake."
Jones told Uncut: "We've fixed the tinniness (of previous CDs), and pulled Ronnie's bass out more."
In addition to sonic upgrades, the CD set includes a 10-page booklet that seeks to replicate the interactive original album cover. There also is a 24-page booklet.