A multi-CD box set of Sly and the Family Stone recordings called "Higher!" is set for Aug. 27, Sony Legacy says.
The label's announcement was keyed to the 70th birthday of Sly Stone on March 15.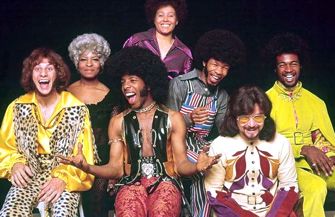 "Nearly one-fourth of the contents will be previously unissued material," Legacy said in its press release.
Stone biographer Jeff Kaliss, who contributed liner notes, says the set will include "pre-Family Stone material," mono hits "as they were played on AM radio" as well as "some stuff you never heard."
The collection "will revive and expand your admiration of the brightness and breadth of Sly's talent," Kaliss says. Memorabilia curated by Neal Austinson and a timeline are part of the package, he says.
Sony Legacy said specifics will be unveiled in several months. It did not say if the studio recordings would be remastered, or if the 2007 remasters would be employed.
Stone's long history in the music world includes his band's famed appearance at Woodstock, which proved to be the band's breakthrough — even though three of their albums already were well known to underground music buffs. The band fused R&B, psychedelic rock, gospel and a bit of jazz in coming up with its fusion sound, best known as funk these days.
As a producer, Stone helped shape the pre-psychedeic San Francisco sound by producing the Beau Brummels, the Charlatans, the Great Society and the Mojo Men.
In 2007, Sony/Legacy/Epic remastered and rereleased the Sly and the Family Stone catalog on CD, with bonus tracks included on most titles. Before that, the catalog languished on CD, despite the band's enduring popularity and influence. The campaign included the touchstone albums "There's a Riot Goin' On" (1971), "Stand!" (1969) and "Life" (1968).
Other 2007 reissues were "Dance to the Music" (1968), "A Whole New Thing" (1967), "Fresh" (1973) and "Small Talk" (1974). There also were vinyl versions and a seven-CD box set in 2007.
Meanwhile, Sony Japan has skedded a "Stand!" CD for March 12, following up on a Blu-Spec CD of 2009.
Sundazed released six Family Stone titles on vinyl, including "Stand!" and "Riot Goin' On." Epic has a 180 gram take on "Life." Import vinyl of "Riot Goin' On" hit stores in February.
Sony Legacy also named Stone its "artist of the month." Janis Joplin and Nina Simone were honored earlier this year.
Stone has been called "the J.D. Salinger" of rock. In 2011, the funk master resurfaced with rerecordings of his hits on "I'm Back." Guests included Bootsy Collins, Jeff Beck and Ann Wilson, but the album was poorly received.
Sly and the Family Stone were inducted into the Rock and Roll Hall of Fame in 1993.