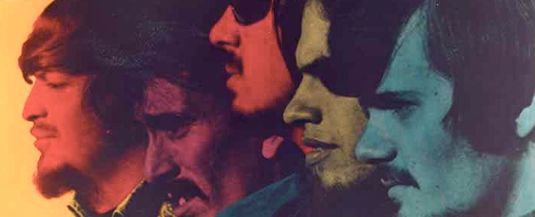 Everyone knows about "Windy," but the heroine of "She (Will-O-the-Wind)" never received her due. Too bad.
The Collectors' 1968 song remains a fascinating bit of psych-pop, redolent with touches of jazz, classical and olden-times singing. The potpourri holds together beautifully, thanks no doubt to the chops of producer Dave Hassinger of Electric Prunes fame. The high harmonies and woodwind create an intoxicating swirl. Imagine the Association joining forces with Jethro Tull for a Renaissance fair gig.
Lyrics are as mysterious as the instrumentation. Perhaps an ode to a hippie chick; perhaps musings on the elusive nature of the wind:
She appears everywhere
Ever near, never nearer
Wish she was so near …
She ain't high,
What does she care,
Far up there in the rare dream air
The 4-minute "She" was written by the band. It appeared as the second track on the Collectors' self-titled debut album, released in 1968. It served as the B-side for "Lydia Purple," an "Eleanor Rigby"-like minor hit written by outsiders. The single and album were on Warner Bros.-Seven Arts.
The core of the Collectors worked under different band names, before and after 1968, most famously as Chilliwack (1971 on). The group began life as the Classics, an R&B cover band linked with a Vancouver AM radio station. It had a Canadian hit with the song "Looking at a Baby" released a year before the debut album.
In California, the band recorded in a former meat locker in North Hollywood, playing all of its own instruments (although some L.A. area classical musicians worked on "Lydia"). The psychedelic vibe was strongest on the sidelong cut "What Love (Suite)," among the first of the epic psychedelic songs.
The band's ace musicianship is apparent on "She (Will-O-the-Wind)." Guitarist Bill Henderson recalled in the Collectors album liner notes: "No one wrote dynamics in rock, but we did — where we wanted crescendos and diminuendos to happen, where things would slow down, where they'd speed up, and everybody's parts."
The Collectors found sympathetic ears in the Bay Area, playing the Fillmore and the Avalon Ballroom. KSAN turned on many of its listeners to the Canadians' flower-power pop.
The group worked with the psychedelic music elite — the Jefferson Airplane, the Grateful Dead, Country Joe and the Fish, the Electric Flag and the Doors — and also played the Fillmore East and L.A.'s famed Whisky a Go Go. Still, a Chicago music writer complained, "The Collectors are the object of general ignorance down under."
Hat tip to Marshall Crenshaw for resurrecting "She (Will-O-the-Wind)" on his fine radio show.