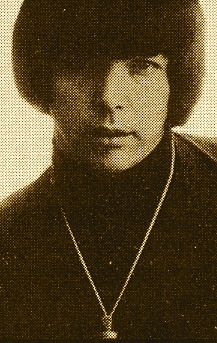 Sean Bonniwell, leader of the dark-edged 1960s band the Music Machine, has died. He was 71.
The Music Machine had one hit single — 1966's blazing "Talk Talk" — and produced only one album with its classic lineup. Still, the fuzz-and-Farfisa band is remembered as a vanguard act — an important link from garage rock to moody psychedelic rock and then the proto-punk bands.
Bonniwell wrote most of the Music Machine's songs and fronted the L.A. band, which was known for wearing all black on stage — the garb including a single leather glove.
Rolling Stone headlined its appreciation of Sean Bonniwell: "The Dark Prince of Garage Rock."
Bonniwell, a born-again Christian, left the music business as the 1960s faded away. He died Dec. 20, 2011, of lung cancer, in Visalia, Calif., various sources said.
"(Turn On) The Music Machine," the first album, featured a half-dozen Bonniwell originals, notably "Masculine Intuition" and "The People in Me." The songs appeared to be part self-therapy as Bonniwell inventoried his demons on vinyl. (Note: The first album appears in various forms, but seems to be best represented on Ultimate Turn On
per Bonniwell's web site.)
Routinely lumped in with garage bands, the Music Machine produced a more ambitious sound that brought to mind L.A. contemporaries Love — and anticipated bands-to-be such as Iron Butterfly and the Crazy World of Arthur Brown. Bonniwell sang in "Masculine Intuition": "I've got a masculine intuition/And it/Do/Not/Never be wrong," right in line with vintage Arthur Lee.
Unfortunately, the first album (on the dinky Original Sound label) was filled out with cover versions ("Cherry Cherry" and a great "Hey Joe"), leaving a stunning but skimpy record of Bonniwell at his peak. Band members reportedly quit over Bonniwell's auteur approach, some of them forming the group Millennium.
Bonniwell signed with Warners and released a second album, called "The Bonniwell Music Machine." Much of the material was recorded previously and it produced no hits. The Warner recordings can be found on Sundazed's 1996 collection Beyond the Garage
.
Bonniwell published his memoirs in 1996, also titled "Talk Talk." He recorded a couple of solo albums and performed his Music Machine material on occasion, sometimes doctoring the lyrics to reflect his Christian bearings. Bonniwell recently marketed a Music Machine video documentary on his web site. (text continues)
* * *
Personal note: My first band, the Pack, popped up in 1966. Ft. Lauderdale, Fla. We stole the name from Terry Knight and the Pack. We copped the look from the Music Machine — black on black. We played "Talk Talk" and "Masculine Intuition," and the rest of the songs came from the Yardbirds. Chris Campbell played drums. I sang and played bass. Wish I could remember the guitarist's name, think it was Jerry — he played 12-string electric very well.