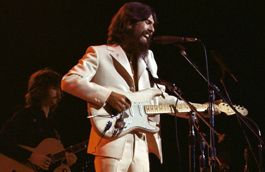 Martin Scorsese's movie on George Harrison has made it into post-production, with a 2011 release expected for the rock documentary.
The famed film director promoted "Living in the Material World: George Harrison" at the Cannes film festival along with the musician's widow, Olivia.
"Marty had a connection with George, they spent time together," Olivia Harrison told the media. "He's passionate about film and music as George was passionate about music and film." She and Scorsese worked on the project for three years.
"I was interested in the journey that he took as an artist," Scorsese said in Cannes. "The film is an exploration. … We're just feeling our way through." Harrison and Scorsese's mutual interest in spirituality also drew the filmmaker to the project.
The key surviving people from Harrison's Beatles days — Paul McCartney, Eric Clapton, Ringo Starr and Yoko Ono — have done new interviews for the film. His pals Tom Petty and Eric Idle also are in the mix.
Olivia Harrison provided a wealth of archival images and audio from the late Beatle's possessions, much of it new to the public. While revisiting the past was sometimes "excruciating," she felt good about turning over the project to Scorsese and his team. "I feel really safe; I feel protected."
The Harrison project calls on some of the key collaborators from Scorsese's Bob Dylan documentary "No Direction Home": cinematographer Robert Richardson, editor David Tedeschi, and producers Nigel Sinclair and Margaret Bodde.
Scorsese and Harrison are courting American distributors for the feature-length movie. Sinclair's Exclusive Media Distribution is handling overseas theatrical.
Scorsese's rock films are "The Last Waltz" (1978), "No Direction Home: Bob Dylan" (2005) and "Shine a Light" (Rolling Stones, 2008)." In addition to "Material World," he's prepping "Sinatra," a biopic about the chairman.
He also helmed the musical drama "New York, New York" (1977). For Michael Jackson, he created the gang-related music video "Bad." For the TV documentary "The Blues" (2003), he directed the "Feel Like Going Home" episode. In the late 1960s, he worked on the "Woodstock" movie.
Scorsese's love of rock and pop shows has been evident throughout his film career, dating back to "Mean Streets." Perhaps most famously, he used Clapton's "Layla" in an extended death scene in "GoodFellas." The song was written for Harrison's ex-wife.