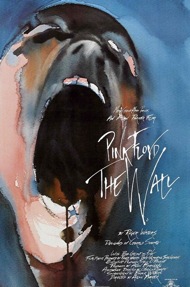 "Thirty years ago when I wrote 'The Wall,' I was a frightened young man," Roger Waters says of the Pink Floyd classic.
Waters isn't afraid anymore. He's taking "the story of my fear and loss" on the road this fall, bringing an Internet-era version of the lengthy album to 35 cities.
The tour starts Sept. 15 in Toronto, with stops in most major U.S. and Canadian cities, including Chicago, Los Angeles and New York.
The English musician relaunched his rogerwaters.com Web site for the tour and is writing a tour blog. It includes a signup for the lottery to access presale tickets for "The Wall." Fans can register for up to five cities.
Waters also asks fans to provide pictures of loved ones killed in a war — soldiers or civilians — for use in the show. He's including a photo of his dad, Eric, as one of the "Fallen Loved Ones." The "Wall" story begins with Eric's death in World War II.
Pink Floyd fans of a certain age remember the band touring the double-disc concept LP in 1980. A 40-foot brick wall was constructed during the show, as inflatable animals drifted overhead — included the famed Orwellian pig that resurfaced recently in the film "Children of Men." As the concert concluded, the wall came tumbling down, revealing the band once again.
Key songs from Pink Floyd's "The Wall
" include "Is There Anybody Out There," "Comfortably Numb" and "Another Brick in the Wall (1 & 2)." Most were written by Waters.
The 81-minute work reflected Waters' paranoia and alienation (hence the wall). Pink Floyd had visited the dark side from time to time, but "The Wall" proved a major departure into acrid sounds.
"It took me a long time to get over my fears," Waters blogged. "Anyway, in the intervening years it has occurred to me that maybe the story of my fear and loss with its concomitant inevitable residue of ridicule, shame and punishment, provides an allegory for broader concerns: Nationalism, racism, sexism, religion, Whatever!"
"The Wall" tour dates:
Sep 15:
Air Canada Centre
Toronto, ON
Sep 20:
United Center
Chicago, IL
Sep 21:
United Center
Chicago, IL
Sep 26:
Consol Energy Center
Pittsburgh, PA
Sep 28:
Quicken Loans Arena
Cleveland, OH
Sep 30:
Boston TD Garden
Boston, MA
Oct 05:
Madison Square Garden
New York City, NY
Oct 08:
HSBC Arena
Buffalo, NY
Oct 10:
Verizon Center
Washington D.C.
Oct 12:
Nassau Coliseum
Long Island, NY
Oct 15:
XL Center
Hartford, CT
Oct 17:
Scotiabank Place
Ottawa, ON
Oct 19:
Bell Centre
Montreal, PQ
Oct 22:
Schottenstein Center
Columbus, OH
Oct 24:
The Palace of Auburn Hills
Detroit, MI
Oct 26:
Qwest Center
Omaha, NE
Oct 27:
Xcel Energy Center
St Paul, MN
Oct 29:
Scottrade Center
St Louis, MO
Oct 30:
Sprint Center
Kansas City, MO
Nov 03:
Izod Center
East Rutherford, NJ
Nov 08:
Wachovia Center
Philadelphia, PA
Nov 09:
Wachovia Center
Philadelphia, PA
Nov 13:
Bank Atlantic Center
Fort Lauderdale, FL
Nov 16:
St Pete Times Forum
Tampa, FL
Nov 18:
Philips Arena
Atlanta, GA
Nov 20:
Toyota Center
Houston, TX
Nov 21:
American Airlines Center
Dallas, TX
Nov 23:
Pepsi Center
Denver, CO
Nov 26:
MGM Grand Garden Arena
Las Vegas, NV
Nov 27:
US Airways Center
Phoenix, AZ
Nov 29:
The Forum
Los Angeles, CA
Dec 06:
HP Pavilion
San Jose, CA
Dec 10:
GM Place
Vancouver, BC
Dec 11:
Tacoma Dome
Tacoma, WA
Dec 13:
Honda Center
Anaheim, CA