Terrestrial data streams indicate Sun Ra departed this Earth on May 30, 1993.
Was Ra a stranded extraterrestrial, left to communicate with his home planet via a raft of curious sonic recordings — much like the alien Newton in "The Man Who Fell to Earth"?
Or was Ra a mere human piano player, a guy named Herman looking for a gag to advance his career in jazz — and finding it in outer-space kitsch.
The final report remains … unclear.
We do know that Ra left behind more than a hundred long-players, many with otherworldly names such as "Sun Ra Visits Planet Earth," "The Nubians of Plutonia," "We Travel the Space Ways" and "The Other Side of the Sun." The albums' cover artwork every bit as strange as the "cosmic jazz" within.
In the late 1960s, more than a few hippies tried to embrace the Sun Ra aesthetic and mythology. What could be more far out than an avant-garde musician who says he's from Saturn? Bill Graham was a fan, welcoming Ra and his Arkestra to the Fillmore in 1968. Ra even made the cover of Rolling Stone.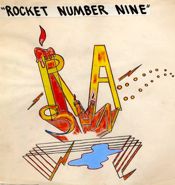 Yet Ra never crossed over. Despite the far-out dress, cosmic mumbo-jumbo and head-spinning free-form music, Ra proved too strange and frustrating even for lovers of adventurous psychedelic music.
One '60s rocker got it. Terry Adams brought an early Sun Ra single to the attention of his band. For their debut album, NRBQ recorded "Rocket Number Nine Take Off for the Planet Venus." (Adams would go on to collaborate with Ra and some of his ace musicians.)
"Rocket Number Nine" is not the most psychedelic song in the Sun Ra canon, but it remains plenty strange. Call it the first space rock song. "Rocket" has an undeniably narcotic quality. And you can dance to it.
The number, first recorded in 1960, revolves around a chirpy yet monotone chant: "Rocket Number Nine take off for the planet/The planet/Venus!" This no doubt delivered by a crew of interstellar drones. Look for them in the rocket's steamy nether-section, turning mysterious dials on mysterious wheels — a la "Metrotropolis."
Ra's musicians for decades would perform the number dressed in Halloween-quality red spaceman costumes topped off by battery-powered beanies and lit-up propellers. Robots and flying saucers got into the act. Ra lorded over the proceedings, resplendent in exotic robes and Egyptian headdresses.
Ra went on to embrace cutting-edge electronic instruments such as the Moog synthesizer, but this "Rocket Number Nine" is a strictly analogue affair. Ra kicks off the song with a Monk-like riff, followed by the crew's chitty-chanting. Then the vocalized sound effects: "Zoom! Zoom! Zoom!" Drums and woozy horns follow.
That tenor sax solo (1:43) comes via an amazing Earthling, John Gilmore, who would remain with Ra for five decades. At this point, "Rocket Number Nine" detours into bop, a juxtaposition not unusual for even the spaciest of Ra's compositions. Something called a space gong shows up at the 3-minute mark, announcing Ronnie Boykins' deep-space bass solo.
Ra unleashes a swarm of piano notes that rise above the proceedings like celestial fireflies. The crew announces, "Second stop is Jupiter — all up for Jupiter!" A concluding klang-bang and the wild ride is over, after 6-plus remarkable minutes.
Keep in mind this transportation occurred in 1960, a year whose No. 1 single was "Theme From a Summer Place" by Percy Faith.
"Rocket Number Nine" came out as a single almost eight years later, in an even spacier version clocked at 4:22. Ra and his band rerecorded the song many times.
Liner notes: "Rocket Number Nine" inspired a handful of rock and jazz covers, including ones by Yo La Tengo, Zombie Zombie, Nectarine and Jason Ricci. The best remains NRBQ's "Rocket Number 9," percussive and to the point. Pianist Adams later made an album with Marshall Allen, Ra's other terrific sax player. … "Mystery Science Theater 3000" dubbed its orbiting space camera Rocket Number 9. … One could spend a lifetime sorting through Ra's recordings. Feeling overwhelmed? Left behind? No worries: "In some far-off place many light years in space, I'll wait for you," Sun Ra promised in poetry.