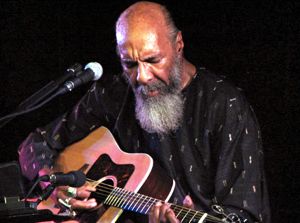 The fiery and soulful folk singer Richie Havens, best known for his heroic work in opening the Woodstock rock festival, has died at age 72.
Havens died after a heart attack at his New Jersey home, his manager said.
Havens remained true to his Greenwich Village folk roots, but was a favorite among the rock festival crowds of the late 1960s. His albums between 1968 and 1971 were heavy with psychedelic imagery, notably "Richard P. Havens, 1983," the 1969 album on which he covered four Beatles songs and another by Donovan.
But it was 1967's straight folk album "Mixed Bag" that first found Havens a wide audience, boosted by play on the emerging free-form FM radio format. Like Jefferson Airplane, he found the power and transcendence in its opening song, "High Flyin' Bird," by Billy Edd Wheeler. "Handsome Johnny," a time-traveling protest song, later would find a home in the "Woodstock" movie.
Havens' last album was "Nobody Left to Crown" in 2008. He stopped touring in 2012.
Havens' propulsive guitar style — unusual if not unique at the time — found its sound in an open D tuning, a favorite of blues musicians. His fiery playing was captured to perfection in his improvisational "Freedom/Motherless Child" in the film "Woodstock." It remains Havens' best-known performance. A version appears in a emotionally charged scene in Quentin Tarantino's "Django Unchained."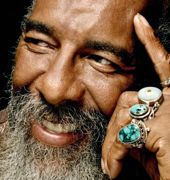 Havens wasn't supposed to open Woodstock, but was pressed into action when the band Sweetwater had trouble making it into the mobbed music fest. He ended up playing for almost three hours, and was asked to play more because fest organizers still needed more time for the next act. He told the music blog Owl and Bear:
I had no more songs. But I did what I had to do. I stepped up to the mic and did the first thing that came to my mouth, which was "Freedom," and that went on until the words to "Motherless Child" came out.
As a young man, the Brooklyn doo-wop and gospel singer was drawn to the folk-music scene in Greenwich Village. He said "it took a while before I thought of picking up a guitar," however. That came at the urging of Fred Neil, who heard Havens singing harmony from the audience.
"I learned how to play in order to sing the songs I heard in Greenwich Village in the late 1950s into the early '60s," Havens wrote in a brief tutorial on his web site. "They were a different kind of song than the doo-wop songs I sang in Brooklyn with my friends. They were songs that made me think and even confirmed many of my own theories about Human Beings and what we were supposed to be."
Havens also played sitar, on his own albums and on the debut LP by the Electric Flag.
Havens covered psychedelic music classics including "All Along the Watchtower," "Darkness, Darkness," "What You Gonna Do About Me" and "Strawberry Fields Forever." He interpreted rock songs throughout his long career, especially those with political themes such as "Lives in the Balance" by Jackson Browne.
Havens, who performed throughout most of his career dressed in robes and beads, was active in the ecology movement, with a focus on educating children.
His songs were used extensively in film and television, including "The Wonder Years," "The West Wing," "Tell No One" and "Taking Woodstock."
Richard Pierce Havens was born in Brooklyn in 1941.