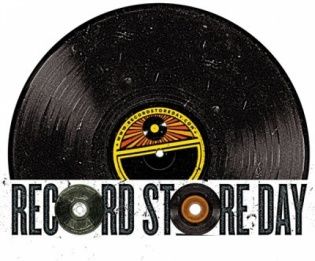 Before you know it Record Store Day will be here again (OK maybe it's already here). But hold on … didn't we have one back in April?
Yep, but this time out it's a special Black Friday edition — and the goodies are really good.
Record Store Day, of course, is the festive event in which we celebrate those indie music shops that soldier on in the mp3 era, providing cool physical media such as specialty CDs to those who still want them.
Vinyl records are the coolest of them all these days, and the hipper labels have responded with collectors albums, EPs and singles from artists of quality.
The Black Friday stash includes soon-to-be rareities from psychedelic-leaning acts such as the Beatles, Pink Floyd and Syd Barrett, the Yardbirds, the Byrds and the Who.
We're spoiled here in L.A. (and in San Francisco) with the massive indie recording purveyor Amoeba, but of course most of the record stores being honored are small shops, run by music-addicted guys and gals. (View list of participating Record Store Day shops.)
Here's a nod to my closest shop, Freakbeat Records in Sherman Oaks, Calif., where the guys don't look at you funny if you ask for something by the Ultimate Spinach.
Here are the Black Friday Record Store Day exclusives from bands with 1960s psychedelic connections. Call it the Geezer Collection:

Syd Barrett: "Mick Rock." Photography of the Pink Floyd founder by his pal Mick Rock, packaged with a 7-inch 45 of "Run Like Hell" and "Don't Leave Me Now." Capitol says the package comes "in a picture bag" with the 7-inch single on yellow heavyweight vinyl."
The Beatles: "The Singles" box set of four 7″ picture-sleeve singles in a flip-top box. The A and B sides are "Ticket To Ride" and Yes It Is"; "Hey Jude" and "Revolution"; "Something" and "Come Together"; "Yellow Submarine" and "Eleanor Rigby." The tracks are billed as newly remastered.

The Byrds: "Eight Miles High"/"Why." 7-inch vinyl, 45rpm. Sundazed dug up these first-time-around RCA recordings (the versions most of us know were rerecorded at Columbia). "Eight Miles High" is destined for the top 10 of our Best 100 Psychedelic Songs list.
The Byrds: "The Times They Are A-Changing"/"She Don't Care About Time." 7-inch vinyl, 45rpm. This Dylan two-for was supposed to be released in the 1960s, but it never happened. Until now.

The Doors: "L.A. Woman" box set on 7″ Vinyl. Songs include "The Changling," "Riders on the Storm," "Love Her Madly" and another single of studio chat. The cover is the original artwork for the "L.A. Woman" album, with a naked woman nailed to a telephone pole.
Grateful Dead: "Live Europe '72 Vol. 2" in a four-album vinyl set. With an additional track. The double-disc CD was released in late September. Cover art: A new look at the Ice Cream Kid from artist Stanley Mouse. From Rhino, the Dead's marketing partners.
Janis Joplin: "Move Over." Four 7-inch singles with four unreleased tracks. "Magic of Love" and "Call On Me"; "Piece Of My Heart" and "Summertime"; "Raise Your Hand" and "Bo Diddley"; and ""Move Over" and "My Baby." Some mono, some in stereo.

Janis Joplin: "The Classic LP Collection." 180 gram vinyl versions of "Pearl," "I Got Dem' Kozmik Blues Again Mama," Big Brother and the Holding Company's first release and of course "Cheap Thrills." From Legacy (Columbia). Exclusive to indie record stores until Monday, when orders start being filled at the Janis Joplin web site.
John Lennon: "Imagine 40th Anniversary Box Set." Vinyl album of the stripped-down 2010 remix job overseen by Yoko Ono. Comes with six-track white vinyl 12″ and a poster. From Apple.

Pete Townshend: "The Quadrophenia Demos, Part 1." On a 10-inch EP. In a twist, Part 2 won't be available until Record Store Day 2012. The project was overseen and produced by Townshend. The demo tracks are "The Real Me," "Cut My Hair," "Punk," "Dirty Jobs," "Is it in My Head?" and "Anymore." Don't expect quadraphonic, though.
Pink Floyd: "The Wall." Box set of three 7-inch singles. "Move Over" and "My Baby"; "Comfortably Numb" and "Hey You"; and "Run Like Hell" and "Don't Leave Me Now." The goodies just keep on coming from EMI's massive Pink Floyd remastering project that began in September. Also just out on SACD.

The Yardbirds: "Ten Little Indians" and "Drinking Muddy Water" on a 7″ single. From the band's waning days, in which Jimmy Page gets all psychedelic with reverse echo — trying to save the A-side, a strident cover of a Harry Nilsson song. The B-side is an excellent white boy blues workout from "Little Games." From Sundazed.
The Yardbirds: "Ha Ha Said the Clown" and "Tinker Tailor Soldier Sailor" on a 7-inch single. A 1967 record never released in the U.K. Two solid of the best late-period songs — one pop, one rock — with Jimmy Page leading the way on guitar. From Sundazed.
Of course there are quite a few contributions from acts in many genres, across many decades. Check out the Black Friday music collection. See you in the queue.