Classical-rock fusion from Deep Purple, mono LPs from the Beatles and a primo box set from the Grateful Dead pace the psychedelic music releases for the year's third quarter. Here's the roundup: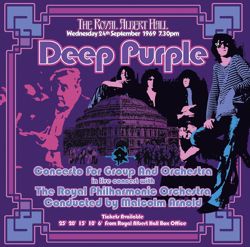 In 1969, classical music and psychedelic rock merged for one night only at (where else?) London's Royal Albert Hall. The summit redefined long-hair music. Crossover classical was born, but the rockers dumped the tuxes en route to the heavy metal foundry.
Deep Purple's "Concerto for Group and Orchestra" takes an encore Aug. 26 in a vinyl box set. The music was composed by the late Jon Lord, with Malcolm Arnold conducting the Royal Philharmonic Orchestra. Rhino's set revives the 2002 EMI special edition, which had expanded the original vinyl release to include the entire groundbreaking program played at Royal Albert Hall in September 1969.
"It gave me the courage to step outside and carve a career for myself outside the band," keyboardist Lord said of the concerto. Over the past two decades of his life, Lord dedicated himself to classical music performance and composition.
The 1969 program also included a symphony from conductor Arnold, a handful of Deep Purple rock songs ("Hush," "Child in Time") and three movements of Lord's piece, with lyrics by Ian Gillan.
Lord's score was lost over time, but he had it re-created for a 1999 performance. The Rhino box set is spread over three discs and goes for about $75.
The Beatles' format of choice was mono vinyl, of course, but the CD-era attempt to re-create the Fabs' mono albums failed to thrill fans. This time there's a twist that's worth shouting about: A Sept. 9 release is set for Apple's presentation of the vinyl box set "The Beatles in Mono." The difference, other than back to vinyl, is the mono results from a pure analogue mastering sequence (AAA) — or at least as close as is possible in 2014.
There are 14 records, cut onto 180-gram vinyl. They're being pressed in Germany for distribution wherever you are. Covers are full size, with sleeve artwork "identical to the (U.K.) originals." The box set's going rate is about $375. Albums also sold individually. Included are the nine British mono albums, plus the U.S. "Magical Mystery Tour." The non-album-track wrangling is done on "Mono Masters," a three-disc collection. The box set, apparently limited in number, will include a large-format 108-page hardbound book.
George Harrison's early solo work appears to be in for a spit-polish, with his son (sort of) announcing the upcoming release of "The Apple Years" box set. Release date has been put at Sept. 22, but it's all grade-A rumor at this point. Albums would include "Wonderwall Music" and "Electronic Sound," Beatle bloggers claim.
The Grateful Dead's "Spring 1990 (The Other One)" box set wraps a bow on that tour. It joins Europe 1972 as the only Dead tour with every note chronicled on official releases. ("The Other One" reference is to the massive 2012 box set of the same title.) Due Sept. 9, the new "Spring 1990" is a four-star effort, with price tag to match ($240). Of course, it's a limited edition of 9,000, individually numbered. You get a big booklet, replica tickets, the works.
"Spring 1990 (The Other One)" features eight complete shows, including a pair at the Nassau Coliseum in New York and another two at the Omni in Atlanta. (Sax man Branford Marsalis played in New York, jamming on "Dark Star.") The band still was covering plenty of Dylan as well as presenting songs from 1989's "Built to Last." Live tracks include "When I Paint My Masterpiece," "Dear Mr. Fantasy," "Estimated Prophet," "Revolution" and "The Weight."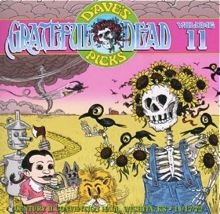 Also from the Dead comes "Dave's Picks Vol. 11: Century II Convention Hall, Wichita, KS. 11/17/72." The Aug. 1 release includes tracks from Oklahoma City recorded a few days before. The set list has plenty of "Workingman's Dead" and "American Beauty." Talking-point tracks include "Bird Song," "Box of Rain" and "Beat it on Down the Line."
And more Dead: "Live at the Cow Palace: New Year's Eve 1976" in a five-disc vinyl box set from Friday Music, Sept. 16. Highlights: "Morning Dew," "Uncle John's Band" and "Eyes of the World." (See Rhino CD of 2007.) … "Dick's Picks Vol. 16: Fillmore Auditorium, San Francisco, CA 11/8/69" returns via Real Gone Music in a three-CD set released in early September. The band makes its move toward "Workingman's Dead." "Out of print for years."
John Oswald's "Grayfolded" tribute to the Dead mixes up 100 performances of "Dark Star" recorded between 1968 and 1993, creating a singular musical work. The Canadian composer's mid-1990s exercise in "Plunderphonics" returns July 22 (it was delayed) in a three-LP set from Important Records. Includes a pair of "time maps" sourcing the "Dark Star" performances.
Can, the German psychedelic/prog/avant garde outfit, sees their first four adventurous albums return on vinyl Sept. 2. They are "Monster Movie" (1969, with Malcolm Mooney), then "Soundtracks," "Tago Mago" (double LP) and "Ege Bamyasi." Clanging krautrock with a difference. From Mute Records. Also: TBA is vinyl of "Landed."
Gentle Giant's "The Power and the Glory" gets a new deal on CD/Blu-ray and CD/DVD import editions. The 1974 prog album's 40th anniversary revival features 2014 stereo and 5.1 mixes by Steven Wilson, as well as a flat transfer of the original mix. Also with videos. It's a loose concept album, about the corruption of power as in Watergate. Just out on the band's Alucard label. (Amazon U.S. lists CD/Blu-ray only.)
Creedence Clearwater Revival's seven studio albums coming chooglin' back on audiophile vinyl Aug. 26. The albums — such as "Bayou Country," "Green Rival" and "Willy and the Poorboys" — return on 200-gram vinyl, remastered by audio aces Levin Gray and Steve Hoffman. A box set, "Absolute Originals," includes an eighth record of primo cuts at 45 rpm. The CCR reissue series from Analogue Productions (and Fantasy) dates back a decade, but the titles have been out of stock for years.
Mike Bloomfield, Al Kooper & Steve Stills teamed up for the jam-based rock blues classic "Super Session." The highlight is an iconic Kooper-Stills "Season of the Witch." It's no doubt spookier than ever on an SACD version due Aug. 19 via Audio Fidelity. Kooper-Bloomfield's "His Holy Modal Majesty" sounds like the guitarist's followup to the raga-rock classic "East-West." Ringmaster Kooper did the album's 5.1 mix himself and provided updated liner notes. Steve Hoffman remastered the stereo tracks.
The Flock made two fine psychedelic albums before violinist Jerry Goodman decamped in 1970 for the Mahavishnu Orchestra. Eventually came the Flock's 1975's fizzler "Inside Out," which marked fini for the Chicago band. Sort of. "Heaven Bound: The Lost Album" re-creates the band's efforts to keep things going under the direction of founder Fred Glickstein (vocals, guitar). Glickstein recalls the sessions as "a happy musical trip." Cleopatra Records/Purple Pyramid debuts those tapes July 22 on CD and digital. (Read about "The Flock," No. 30 on this site's list of top psychedelic albums.)

The Pretty Things' 1970 follow-up to "S.F. Sorrow" couldn't replicate the proto-rock opera's critical success, but "Parachute" has its admirers. Rolling Stone gave it a nod as an "obscure underground classic." Chew on the long-form "Cries From the Midnight Circus" and contemplate the absence of Dick Taylor. "Parachute" touches down again Aug. 5 on 180-gram vinyl "recut directly from the original Abbey Road master tapes." Madfish Records.

Rick Wakeman's reworking of his "Journey to the Centre of the Earth" surfaces on vinyl Aug. 12. The concept piece, first seen on vinyl as a live recording in 1974, was expanded and rerecorded in 2012 as part of a fan-magazine release. That is the recording released to CD this past June and now making its U.S. debut on 180 gram vinyl in August. There is also a reissue of Wakeman's 1999 sequel album, "Return to the Centre of the Earth." That effort was narrated by Patrick Stewart. Both double-disc sets, via Write Notes. More Wakeman: "Criminal Record," featuring his new (1977) bandmates Chris Squire and Alan White. CD out in early September via Real Gone.
Anderson Bruford Wakeman Howe sought to return to the peak prog years of Yes with their self-titled album of 1989. It's back, remastered, come Aug. 25/Sept. 2 on Esoteric, along with a second CD of bonus tracks. Roger Dean's "Desert" artwork reportedly has been restored to its original form on this import title.
Keith Emerson and Greg Lake's "Live From Manticore Hall" captures two-thirds of EL&P during the duo's 2010 world tour. Starring "Lucky Man" and "From the Beginning." Keyboardist Emerson says: "It was a delicate transformation (of EL&P) that we present now." On CD from Manticore Records/Cherry.
Todd Rundgren's psychedelic soul classic "A Wizard a True Star" and the follow-up prog rock adventure "Todd" are back on audiophile vinyl. The casual-fan favorite "Something/Anything" also gets in on the action, via Britain's vinyl-only imprint Demon Records. All three recordings saw rerelease July 14 in the U.K. and will be available as imports. Meanwhile, "Initiation" returns Sept. 8 on CD (via the Edsel series), complete with the sidelong mind-shred of "A Treatise On Cosmic Fire."
King Crimson's high-end rerelease campaign continues with a 200-gram version of "Islands," out Sept. 15 as an import. "Newly cut from masters approved by Robert Fripp," Burning Shed promises. Bonus MP3 code leads to a transfer of an original 1971 vinyl record provided by Robert Fripp.
Cream's "Best Of" is served on vinyl July 15 by Polydor. The album includes the usual hearty hits as well as "SWLABR," "I Feel Free" and "Tales of Brave Ulysses." TBA is a new vinyl of the "Royal Albert Hall" reunion album. Cream's catalog has been receiving audiophile treatment over the past year or so.
Jethro Tull's "A Passion Play" has an Aug. 5 date for a revival run. Audio master Steven Wilson says it's "the lost album recorded at Château d'Hérouville in 1972, for the first time in its complete 60-minute form." Backstory: The band had planned an ambitious concept album to follow "Thick as a Brick," but bagged it due to drama and despair at the French sessions. "Passion Play" was rushed out instead. (Fans should check out the Rhino CD & DVD surround sound version released July 1.)
Also: Canned Heat "Vintage" (Aug. 5, Cleopatra); John Cale's "The Academy in Peril" ("July," 4 Men With Beards); Sun Ra's "Outer Spaceways Incorporated" (Aug. 5, ORG Music); John Lennon's "Shaved Fish" (Aug. 19, Capitol); the MC5's "Back in the USA" (Aug. 19, 4 Men With Beards); Ernie Graham's (Eire Apparant) self-titled 1971 LP (Aug. 19, 4 Men With Beards); the Youngbloods' "Beautiful: Live in San Francisco, 1971" (July, Sundazed). All releases are vinyl.
Also also: Electric Wurms' "Musik, Die Schwer zu Twerk" on colored vinyl (Aug. 19, Warner Bros.); Frank Zappa's "Apostrophe" on vinyl (Sept. 2, Zappa label); Robert Plant's "Lullaby and … The Ceaseless Roar" on CD/vinyl (Sept. 9, Nonesuch); Joni Mitchell's "Hejira" on vinyl (Sept. 23, Elektra); Free's "Live!" and "Free" on SACDs (Aug. 29, Island); Funkadelic's "Hardcore Jollies" on CD/vinyl (Sept. 1, Charley); the Black Angels' "Clear Lake Forest" on vinyl and CD (July 22, Blue Horizon).
To be announced: From the red-dwarf star known only as TBA we spy Love's "Forever Changes" on SACD; the Moody Blues' "On the Threshold of a Dream" on vinyl; "In the Court of the Crimson King" on DVD Audio (40th anniversary); Ten Years After's "Undead" on vinyl (with "etched side"); Hawkwind's "In Search of Space" and "Hall of the Mountain Grill" on vinyl.
More TBA: "Bitches Brew" from Miles Davis on SACD; Davis' "Miles in the Sky" "Filles De Kilimanjaro" on SACD and 45 rpm; "Highway 61 Revisited" by Bob Dylan on 45 rpm vinyl; "Workingman's Dead" and "American Beauty" on 45 rpm vinyl and on hybrid SACDs; "Santana" debut and "Abraxas" on SACD and 45 rpm vinyl.
Also TBA: Roger Waters "Amused to Death" on 200 gram vinyl and SACD; Alan Parsons' "Time Machine" on clear vinyl; Joe Zawinul's self-titled solo LP; "The Mysterious World of Bernard Herrmann" at 45 rpm; De La Soul's "Buhloone Mindstate" on vinyl; Robert Fripp & Brian Eno's "Equatorial Stars" on 200 gram vinyl; Buddy Miles' "Them Changes" on vinyl; and, incredibly, some kind of "Purple Rain" anniversary release with the full participation of Prince.
Note: Release dates for vinyl and SACD titles remain fluid until they actually ship. This record roundup will be updated through the quarter. SACDs are all hybrids unless specified otherwise; they work on a CD player not in advanced resolution.