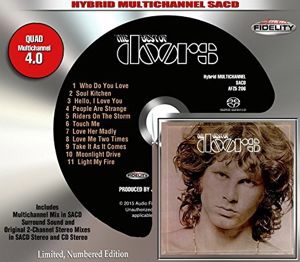 Classic but freshly repolished goods from the Doors, Yes, the Yardbirds, EL&P and Miles Davis promise a strong second quarter in the psychedelic music world.
The Doors' music remained in strong demand a few years after the death of singer Jim Morrison. Elektra looked to give the music new spark with a "Best Of" collection in quadraphonic. The four-channel format fizzled, and Doors marketers moved on to other repackaging jobs, but the quad collection was never forgotten by the early adopters of long ago.
Ace audio revivalist Steve Hoffman delivers the goods June 2 with a hybrid SACD containing the original quad mix and his re-do of the two-channel stereo mix. Tracks include the usual suspects as well as "Who Do You Love," "Take It As It Comes" and "Moonlight Drive."
"I think that those of you who are used to the modern 5.1 surround versions of these songs will really dig the Paul Rothchild 1973 quad attempts," Hoffman wrote on his music forum. (Rothchild was the Doors' first producer.) The surround on the "Perceptions" box set was in the modern 5.1 format, the subwoofer and center speaker being modern add-ons to consumer audio.
Release date is June 2 with a street price of about $30. Hybrid SACDs will play on regular CD players, but without the surround. The stereo still offers Hoffman's tweak of original sound guy Bruce Botnick's work. (Botnick recently oversaw Analogue Productions' Doors rereleases.) Also eagerly awaited by fans of the L.A. psychedelic rockers is the mono Record Store Day release of "Strange Days."
Joe Cocker, one of the heroes of Woodstock, also gets a long-awaited SACD presentation for his 1969 debut album "With a Little Help From My Friends." Audio Fidelity puts the polish on "Feeling Alright," "Bye Bye Blackbird" and other ace tracks. June 2.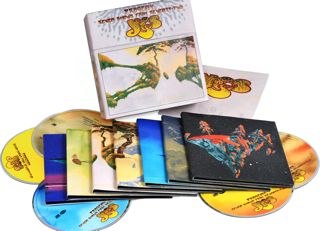 Yes fans continue to feast, with the release of "recently discovered" recordings of seven North American concerts from the fall of 1972. "Progeny: Seven Shows From Seventy-Two" is a 14-CD box set that streets for about $75. Your lineup is Jon Anderson, Rick Wakeman, Steve Howe, Chris Squire and new guy Alan White. (This is the tour that produced "Yessongs.") New artwork by Roger Dean. May 19 from Atlantic. The box set has "every note" of the shows. Vinyl "Highlights" come on three LPs or two CDs, both sets due May 26. Also from Yes, "The Yes Album" on vinyl from Friday Music, May 26. And "Union: Live" on CD, May 9.
John Lennon's major solo albums have been recut to vinyl for a June 9 release as a box set. The masters are those done by Yoko Ono and company in 2010. Read more about the Lennon vinyl box set. (Individual LPs go on sale in late August.)
The Yardbirds' last-gasp album "Little Games" has its fans, although it's often criticized as a bastardization of the group at the hands of producer Mickie Most. Still, there's plenty of innovation here, including the cocky title track, Jimmy Page's "White Summer" and the psychedelic "Glimpses." This new Parlophone vinyl release adds eight tracks to the original eight. Due May 19.
Miles Davis' seminal psychedelic-jazz-funk album "Bitches Brew" returns via a "bookset" re-do of the 40th anniversary box set. Six bonus tracks, a bonus CD with a Tanglewood concert from summer 1970, and a DVD from a fall 1969 Copenhagen gig with different band. Greg Tate writes the book. (No LPs, unlike the 2010 box set.) Mid-May, from Sony. Also, new vinyl of "Tutu" with a second LP bearing a live show from the Nice Jazz Festival in 1986. May 25.
Jethro Tull's "Minstrel in the Gallery" gets a "40th anniversary" celebration featuring new stereo and surround mixes by Steve Wilson. Two CDs and two DVDs. Includes seven bonus tracks; the original LP and quad remixes; and an 8-minute film of the band performing the work. 80-page book. Release date May 5. Also, a vinyl version of "Thick as a Brick" on June 9 and new vinyl of "Aqualung" (Steven Wilson mix) on May 25.
Love returned with the turn of the century, as leader Arthur Lee gained release from prison. Lee made the most of his remaining years, touring with a young and powerful version of his psychedelic band. "Forever Changes Concert" captures the group in London's Royal Albert Hall in 2003. The CD and video have been available since 2006 or so. Now Madfish offers the show in a double-gatefold vinyl set. May 12.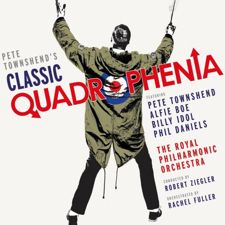 Pete Townshend finds new life for Jimmy the mod and the "Quadrophenia" rock opera via a symphonic rendering on classical label Deutsche Grammophon. English tenor Alfie Boe sings the Roger Daltrey parts; Townshend plays some electric guitar. The Royal Philharmonic Orchestra under direction of Robert Ziegler with orchestration by Townshend's lady Rachel Fuller. June 9 on CD.
Emerson Lake & Palmer's "Trilogy" (1972) gets a full exploration with a three-disc "limited edition" set due as an import in North America in early May. CD 1 has the original album; CD 2 is full of new stereo mixes; and a DVD-A features a surround presentation by Jakko Jakszyk (King Crimson). The hit was Greg Lake's "From the Beginning," which appears in an alternate version. Sony.
The Beach Boys classics "Pet Sounds" and "Surf's Up" both are in for high-end treatments this quarter. "Pet Sounds," offered in various audiophile versions over the years, returns on Bluray Audio on June 16. The lesser-known "Surf's Up" rides in on a 200 gram vinyl presentation (stereo) via Analogue Productions. Due in July. Hybrid stereo SACDs of both albums are "coming in 2015," says Analogue Productions, which is in the midst of a major Beach Boys reissue campaign.
The Grateful Dead celebration continues with at least six releases. The Dave's Pick for May is "Academy of Music, New York, N.Y.: 3/26/72." It's the Europe '72 band in warmup mode. More Dead: "The Best of the Grateful Dead: 1967-1977" on vinyl (June 9, Rhino); "Truckin' Up to Buffalo" from July 4, 1989, in a five-LP set (May 19, ORG Music); and the long out-of-print "Dick's Picks" volumes 9 and 11 (Real Gone). "Live From Saratoga 1988" in a pair of vinyl double albums (Let Them Eat Vinyl, import, May 25).
Captain Beefheart and His Magic Band reappear on a pair of Japanese import SHM SACDs due sometime in May. The albums are "Doc at the Radar Station" and "Ice Cream for Crocodiles." Virgin. The Captain's new double live album "Rough Raw and Amazing" is set for Record Store Day. And "Somewhere Over Detroit" live from December 1980 in a double-LP set (Let Them Eat Vinyl, import, May 18).
Ten Years After's self-titled debut (1967), "Undead" (1968) and "Stonedhenge" (1969) return in double-CD sets on June 22, according to Amazon UK. The label is listed as Commercial Marketing. "Stonedhenge" kicked off with the mighty "Going to Try" while "Undead" is one of the great white-boy-blues live albums.
Spring dawned but once, with its self-titled album proving to be a one-off. The British band featured three mellotron players. Billed as "one of the great lost masterpieces of the progressive rock era," 1971's "Spring" is accompanied in its rerelease by a second CD of demos and recordings for a second album that never happened. Gus Dudgeon (of Elton John fame) was the original producer. Due May 25 as an import.
Neil Young was on a serious tear in the mid-1970s, with a string of powerful and borderline weird albums. Four of them return in May via a four-LP set on Reprise. "The Neil Young Official Release Series Volume 2" box contains "Time Fades Away," "On the Beach," "Tonight's The Night" and "Zuma." Bernie Grundman remastering. "Time Fades Away" has been a particularly tough get in recent decades.
Procol Harum's debut album and "Shine on Brightly" are back via Esoteric Recordings. "Newly remastered." The three-CD "Brightly" set includes the 1968 mono mix of the group's second album, apparently debuting in the digital format. Half of the 20 bonus tracks are unreleased. The "Procol Harum" packs in 28 bonus tracks across two CDs, eight unreleased. (Unclear if the remixes are the same as for the Salvo reissues.) Imports,
Gong's psychedelic interstellar craziness goes "High Above the Subterranea Club 2000" with a CD and DVD release from Madfish. (The DVD was previously available.) Zero the Hero and transmissions from Radio Gnome. Includes an interview with the recently departed bandleader Daevid Allen. April 27.
Mike Oldfield's Warner Bros. years get a best of presentation via Rhino, covering "1992-2003." The double-disc CD set debuts May 5. Rhino also unveils four Oldfield titles on vinyl April 28: "The Songs Of Distant Earth," "Voyager, and "Tubular Bells II" and "III."
The Lovin' Spoonful's first three classic albums are set for rerelease in mono (vinyl and CD). Sundazed has "Do You Believe in Magic," "Daydream" and "Hums" skedded for June 30. "Sourced from the original Kama Sutra masters."
Jeff Beck's instrumental albums "Wired" and "Blow By Blow" turned him from rocker to jazz rock artist in the mid-1970s. Produced by George Martin. They're due back sometime this summer on stereo SACDs and 45 rpm records. Analogue Productions. Sundazed, meanwhile, dazzles with a pair of 7-inchers on colored vinyl, both from the early days of the superstar guitarist's solo career. For Record Store Day.
Audience's 1971 album "The House on the Hill" gets a face-lift in an expanded edition. Considered the witty and eclectic British band's best work, with production by Gus Dudgeon (Elton John). Howard Werth on vocals and Keith Gemmell on sax and flute. Three bonus tracks. Import via Burning Shed, June 2.
Iron Butterfly's "Ball" deserved some polish for its CD presentation, and apparently has it on Real Gone's June 2 rerelease. Album was the strong followup to their "In-A-Gadda-Da-Vida." Two bonus tracks.
Cream's vinyl box set is out to generally good reviews. Individual titles are expected in Europe on May 18 and in the States on June 23. With download codes.
Roger Waters' "Amused to Death" now carries a release date of July 24 on SACD and 200-gram vinyl. Pink Floyd collaborator James Guthrie did the SACD surround remix. Analogue Productions.
The Kinks are chronicled, again, on vinyl: "The Kinks," "Kinda Kinks," "Kinks Kontroversy" and "Face to Face" all set for release by the Sanctuary label on June 2.
Also of interest: Quicksilver Messenger Service's "Fillmore Auditorium: February 5, 1967 on two LPs (June 1, import); Todd Rundgren's "Global" on vinyl (May) and "Runddans" electronica collaboration (May 5); John Cale's "Fear" on vinyl (just out); Weather Report's "Sweetnighter" on vinyl (May 26); Ringo Starr's "Postcards From Paradise" on vinyl (June 2) …
And the Who's "The Brunswick Singles" set on vinyl (just out); David Cross and Robert Fripp's "Starless Starlight" on CD (import, May 4): the Rolling Stones' "Sticky Fingers" expanded (major formats, June 9); Michael Angelo Nigro's "Michael Angelo" (CD, April 28);
To be announced: From the murky waters off TBA — Santana's debut LP and "Abraxas" on hybrid SACD and 45 rpm; Bob Dylan's "Highway 61 Revisited" on hybrid SACD; "Thirty Seconds Over Winterland" by Jefferson Airplane on vinyl; "Chicago Transit Authority" on SACD; the Velvet Underground's "Loaded" on vinyl; and Deep Purple live series "Long Beach 1971" double vinyl.
Also TBA: "Are You Experienced" by the Jimi Hendrix Experience on stereo 200 gram; Roger Waters' "Hello (I Love You) on vinyl; Rick Wakeman's "Six Wives of Henry VIII" and "Myths and Legends of King Arthur and the Knights of the Round Table" in DVD & CD deluxe editions; "John B. Sebastian"; and Miles Davis' "Miles in the Sky" and "Filles De Kilimanjaro" on SACD and 45 rpm, and "Nefertiti" on SACD and "A Tribute to Jack Johnson" on vinyl.
Note: Release dates for vinyl and SACD titles remain fluid until they actually ship. This record roundup will be updated through the quarter. SACDs are all hybrids unless specified otherwise; they work on a CD player not in advanced resolution.