King Crimson, Led Zeppelin, Eric Burdon, Jeff Beck and the Pretty Things put an English accent on the slate of new releases for a new year. Here's a roundup of what's coming in the realm of psychedelic music: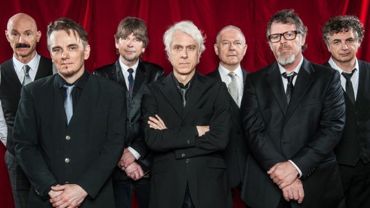 King Crimson stormed downtown L.A. several months ago for a pair of acclaimed concerts. A live document surfaces Jan. 20 via Discipline Global Mobile. Clocking in at (a mere) 41 minutes, it includes versions of "Starless," "The Letters" and "Sailor's Tale." Robert Fripp's new lineup included a trio of drummers at stage front, with the remaining musicians working to the rear, on a riser. The CD version (16/44.1 stereo) comes with a second DVD-A (24/96 Hi-Res stereo) of the same material. Also available: 200 gram vinyl "limited to a single pressing." (Psychedelic Sight was on site at the Oct. 1 concert, and bears witness to this rare event's grace and gravitas.)
Eric Burdon made the transition from white R&B shouter to long-haired leaping gnome in 1967. The English singer disbanded the original Animals (of "House of the Rising Sun Fame") in 1966 and turned to lysergically inspired music. Sundazed has redone two of the resulting psychedelic albums: "Winds of Change" (1967, mono) — with "Paint it Black" and "San Franciscan Nights" — and "The Twain Shall Meet" (1968, stereo) — with "Monterey" and "Sky Pilot." Both of these ambitious and sometimes thrilling Eric Burdon & the Animals albums are available again on vinyl and CD, Feb. 24.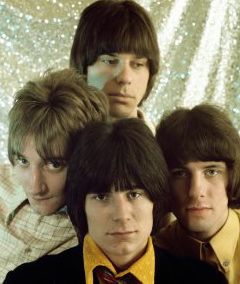 Jeff Beck's "Truth" made a star of Rod Stewart in 1968. The album saw Beck and Co. exploring the heavier side of the psychedelic music the Yardbirds were making when the guitarist did a runner. Tracks included "Shapes of Things," "Beck's Bolero," a killer antiwar "Morning Dew" and a heap of Brit blues. "Mastered impeccably by Joe Reagoso for the first time on audiophile vinyl." Friday Music has the Jeff Beck Group's classic LP on new vinyl Jan. 27 (with "Rough and Ready" on Feb. 17). Just in: Analogue Productions lists "Wired" and "Blow by Blow" on hybrid SACD and 45 rpm LP for summer.
Led Zeppelin introduced the psychedelic-Arabic swirl of "Kashmir" on "Physical Graffiti," their sixth album. The Zeppelin rerelease program continues Feb. 24 with Jimmy Page's remixed version of the double album. Configurations are standard double CDs and double LPs, deluxe three-disc CDs or LPs with a bonus disc of rough mixes and such, and the $160 boxed set. "Rough mixes" include "Kashmir" and "Houses of the Holy." Via Rhino Records.
The Pretty Things turn 50 with the help of a major box set built by Madfish Music. All 11 studio albums on CD, including the psychedelic opera "S.F. Sorrow" of 1968. A pair of rareity CDs and two DVDs with a new documentary. There's even a lottery: The cool new art print by Phil May will be placed in one of the 2,000 sets. (Similar to acclaimed Family box set.) Import, limited, Feb. 23.
Rick Wakeman's time-trip "The Six Wives of Henry VIII" returns Feb. 2 on a CD and DVD set that includes the quadraphonic mixes. Album was remastered at Abbey Road studios. Supporting cast includes most of Yes. Plus a video from "The Old Grey Whistle Test." Also on vinyl. Import.
Procol Harum ran off to Canada in 1971 and scored its second burst of fame via a live symphonic concert keyed by "A Salty Dog" and "Conquistador." "Live" returns in a solid-white double vinyl version Jan. 26. The import is limited to "1,000 copies globally." More strings and choirs on the similar release of "Grand Hotel," both from Burning Shed.
NRBQ's "Interstellar" EP captures the Kentucky wildmen in 1970, paying homage to Sun Ra. NRBQ long had covered Ra's "Rocket #9," an anthem included here as well as the jazz alien's "Next Stop Mars." Band pianist Terry Adams fills out the 10 inches of vinyl with his own songs "Venusian Sunset" and "Approach the Planet." Steve Ferguson on guitar. Recorded live. Due Jan. 27 from Sundazed Kustom Shop, meaning a limited run.
The Velvet Underground's self-titled third album returns on vinyl, remastered. The 45th anniversary release includes "Candy Says" and "Pale Blue Eyes." Part of the Velvet Underground box set project. From Polydor, Feb. 24 or earlier.
Yes went "Symphonic Live" for a DVD project in late 2001. The concert is revisited on vinyl this time, spread across two discs (the CD dates back to 2009). Playing the psychedelic hits are Anderson-Howe-Squire-White and the European Festival Orchestra. From Music on Vinyl, Feb. 2.
The Jefferson Airplane highlighted the songs of "Volunteers" in their May 1969 show "At Golden Gate Park." For fans only, this is an audience recording of mixed quality. Charly has the first vinyl release, in a double-disc gatefold sleeve edition. Out Jan. 19 (import).
Big Brother & the Holding Company performances from early 1967 and mid-1966 were revived in 2010 for "Ball and Chain." Charly rereleases the set on two slabs of vinyl, "24-bit re-mastered by the group." Out Jan. 19 (import).
The Grateful Dead's studio recordings grab the spotlight in "The Best of the Grateful Dead" on March 31. 50th-year collection includes a song from all studio albums, as well as the "Dark Star" single. The double-CD set (and digital download) presents the music chronologically. Via Warner.
The Small Faces reissues continue, incredibly. This time it's a vinyl version of Snapper's remastered and recut "There Are But Four Small Faces." Originally released in 1968 to break the band in the U.S., collecting previous U.K. output. "From the original production master tape." Includes "Itchycoo Park" and "Tin Soldier." (Same as Record Store Day release.) Single disc. Jan. 20.
The Shadows of Knight burst out of Chicago with "Gloria" in 1966. Sundazed resurrects that heady year with 16 "scorching" performances from their hometown teen club, the Cellar. "Live 1966" includes "Gloria," "Dark Side," "Got My Mojo Working" and "Let it Rock." On vinyl and CD, due Jan. 27.
The Standells ruled the charts in 1966, with garage-rock classics "Dirty Water," "Sometimes Good Guys Don't Wear White" and "Why Pick on Me." They were recorded live at the University of Michigan that year, with an extended take on "Gloria" firing up the fans. Sundazed has the audio artifact with "Live on Tour — 1966!" Out on vinyl and CD, Jan. 27.
John Lennon's solo albums are due on SHM-SACD: Japanese import versions of "Plastic Ono Band," "Imagine," "Walls and Bridges" and the rest presented in the pure SACD format. Important note: Not hybrid SACDs, meaning an SACD-ready machine is needed. Due in the U.S. "in January" from Universal.
Tyrannosaurus Rex lives with a trio of albums from 1968-69 returning in expanded remastered versions. They are My "People Were Fair and Had Sky in Their Hair … But Now They're Content to Wear Stars on Their Brows," "Prophets, Seers & Sages: The Angels of the Ages" and "Unicorn." These were the first three Tyrannosaurus Rex albums. ("A Beard of Stars" and other Marc Bolan albums were rereleased last year.) Tony Visconti handles the remastering on these double-CD releases, packed with extra tracks and due Jan. 26 as Universal Music imports.
Jethro Tull's "WarChild" was remixed to stereo for its 40th year by audio wiz Steve Wilson. Hear the results on vinyl Jan. 13 via Parlophone. 1974 album followed "Passion Play," also recently reworked by Wilson.
From the spaced-jazz vaults: Ornette Coleman's 1971 "Science Fiction" on vinyl, Jan. 13 via ORG Music. Weather Report's debut album and "Black Market" on vinyl Jan. 20 via Friday Music.
Also of interest: "The Who Hits 50" on Blu-ray Audio, March 24; the Kinks' double-disc celebration of "Muswell Hillbillies" on vinyl, Jan. 27; "Samurai" (1971 Brit prog) on CD, Feb. 2; Cat Stevens' "Tea for the Tillerman" on 45 rpm, limited, Jan. 20; and "Back Against the Wall" (Pink Floyd album tribute), Jan. 20.
To be announced: From the dodgy fun house that is TBA — "Amused to Death" by Roger Waters on 200 gram vinyl and hybrid SACD; Santana's debut LP and "Abraxas" on hybrid SACD and 45 rpm; Bob Dylan's "Highway 61 Revisited" on hybrid SACD; "Thirty Seconds Over Winterland" by Jefferson Airplane on vinyl; various Beach Boys albums including "Pet Sounds" and "Surf's Up" on vinyl and SACD; and "Chicago Transit Authority" on SACD.
Also TBA: "The Kinks," "Kinda Kinks," "Kinks Kontroversy" and "Face to Face" on vinyl; Mike Oldfield's "The Songs of Distant Earth" on vinyl; "Are You Experienced" by the Jimi Hendrix Experience on stereo 200 gram; "John B. Sebastian"; and Miles Davis' "Miles in the Sky" and "Filles De Kilimanjaro" on SACD and 45 rpm.
Note: Release dates for vinyl and SACD titles remain fluid until they actually ship. This record roundup will be updated through the quarter. SACDs are all hybrids unless specified otherwise; they work on a CD player not in advanced resolution.