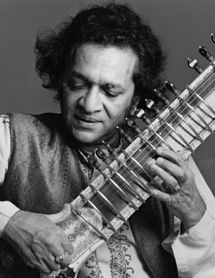 Sitar master Ravi Shankar, who had a profound influence on the music of the Beatles and especially his student George Harrison, has died at age 92.
Shankar is widely credited with introducing the West to Indian classical music. Before the Beatles, he'd worked with other Western musicians, including the sax great John Coltrane.
Harrison, who died in 2001, called his friend and teacher "the godfather of world music."
Shankar, who continued to perform as late as November, made memorable rock concert appearances at Woodstock in 1969 and Monterey Pop in 1967.
His brightest moment in the rock spotlight came in 1971, when Harrison organized "The Concert for Bangladesh." The concert was the first all-star rock benefit, put together at Shankar's request. The resulting Madison Square Garden performance by Shankar and his band was featured at length in the "Bangladesh" film and album. Shankar later toured with Harrison.
Shankar came to dislike performing for the restless drug-addled audiences of the era, at one point calling his rock festival participation "a terrible experience." He also recalled with horror Jimi Hendrix's burning of his guitar in Monterey.
Still, Shankar retained many of the fans he made in the 1960s, and found western audiences' "openness, willingness to learn, and sincere enthusiasm … a continuing source of inspiration and delight."
Harrison first incorporated the sitar into "Norwegian Wood (This Bird Has Flown)" in 1965, using western tunings. The Beatles' lead guitarist then studied the instrument and Indian classical music's highly improvisational ragas with Shankar.
Guitarist Roger McGuinn of the Byrds used a sitar-like sound on the group's hit "Eight Miles High" shortly thereafter, and the 1960s "raga rock" boom was on. The Indian instrument was used extensively — and often poorly — in rock music at the height of psychedelia.
Beatles songs with Harrison playing sitar include the psychedelic classics "Within You Without You" ("Sgt. Pepper") and "Tomorrow Never Knows" ("Revolver").
"He completely transformed (George's) musical sensibilities," Harrison's widow Olivia Harrison said at the service for Shankar. "They exchanged ideas and melodies until their hearts and minds were intertwined like a double helix."
Ringo Starr said on hearing the news of Shankar's death that "Ravi was a great loss musically, spiritually and physically."
Other pop/rock hits of the day featuring sitar included Traffic's "Paper Sun," the Rolling Stones' "Paint It, Black" and Scott McKenzie's hippie anthem "San Francisco (Be Sure to Wear Flowers in Your Hair)."
Harrison also produced several listener-friendly albums featuring Shankar and his musicians.
Shankar said the ragas of Indian classical music could produce "a realm of awareness where the revelation of the true meaning of the universe — its eternal and unchanging essence — can be joyfully experienced."
Shankar leaves behind two famous musician daughters, sitarist Anoushka Shankar and the pop singer Norah Jones.
Shankur, who was born in the Indian city of Varanas, underwent heart surgery shortly before he died Dec. 11 in San Diego.