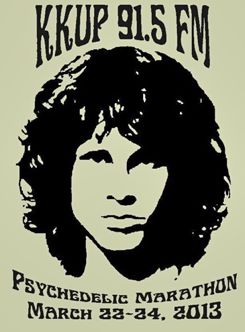 Almost 60 hours of psychedelic music will electrify the airwaves of Cupertino, Calif., this weekend thanks to a radio marathon hosted by the duo of J-Kat & Ruby Tuesday.
Northern California "people's radio" KKUP carries the couple's "Eight Miles High" show Tuesdays from 8-10 p.m. (PT). The eighth edition of the psychedelic marathon kicks off at 3 p.m. Friday.
Update: Check out the "Eight Miles High" web site.
Psychedelic Sight caught up with J-Kat (Dan Kind) as he prepped for the big show.
Q: Three straight days of psychedelic rock! I'm already having "Toad" flashbacks. How long has your show been on the air?
A: Susan and I have hosted "Eight Miles High" for the past 6 years. I've been programming at KKUP for 15 years.
Q: What gets played on "Eight Miles High"?
A: Psychedelic music, of course! But we also do a lot of garage, sunshine pop, psych-folk, British psych and something I lovingly call "stoner music" — stuff from the '70s like Robin Trower, Dave Mason, Bob Welch-era Fleetwood Mac. We also use sound clips from movies and TV, commercials from the era (especially if they feature psychedelic bands), clips from propaganda drug films and comedy (especially if it includes drug references).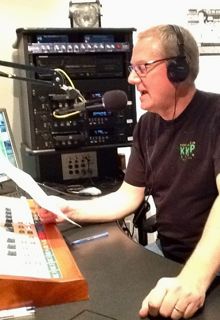 Q: The station is about an hour away from San Francisco, ground zero of '60s psychedelic rock. Do you hear from "veterans" of that space and time?
A: The phone rings off the hook during our show. Many stories from our listeners. Lots of Fillmore, Avalon and Carousel Ballroom stories. And Day on the Green stories. Listeners turn me on to many bands and songs that I was unaware of.
Q: Why do you think classic psychedelic music has such an ongoing appeal after, what, a half century?
A: For many of us, psychedelic music is the soundtrack to our lives. This music helped define who we are and what our beliefs are. It was not about being cool, it was about doing the right thing. Being free and not having to live up to anyone else's beliefs or expectations.
Q: How did you and your wife/co-host Ruby Tuesday get into the music?
A: Susan and I met in high school in the '70s. Even though we grew up in the 60's, in actuality we came in at the end of the psychedelic music era. We were both into classic rock of the '70s. I've always been interested in music of the '60s, though, especially psychedelic music. As my interests grew, so did my psychedelic music collection.
Luckily, I discovered a local music station, KKUP, that welcomed volunteers with a musical knowledge. I started paying my dues early Saturdays from 3 a.m.-6 a.m. Susan sat in a few times and we discovered that listeners enjoyed hearing a male and female broadcasting together. We chose our radio names (J-Kat and Ruby Tuesday) and a name for our show ("Eight Miles High"), and we started pitching for a psychedelic time slot.
Q: Do you play any neo-psych, and what do you think of it?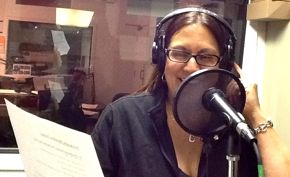 A: I've listened to newer psych bands (Chesterfield Kings, Flaming Lips, MGMT, Tame Impala, Chris Robinson Band), and while I do enjoy them, I try to stick to the music I know best — '60s-'70s psych.
Q: Why do current bands have such trouble re-creating the classic psych sound?
A: Simple, it's all digital now. Back in the '60s most producers had no idea how to record psychedelic. I believe that's what gave a lot of classic recordings that grungy garage sound. Dave Davies from the Kinks used to slice his guitar amps with razors to achieve the raw sound he required. I don't think new psych bands are willing to do that.
Q: Do you listen to psychedelic stations on the Internet?
A: Pandora and Psychedelic Jukebox. Sometimes I hear hidden gems for the first time.
Q: Are you two full-time free spirits or do you have day jobs?
A: Susan is a first grade teacher and I am a corrections officer for the Santa Clara County Sheriff's Department.
Q: Can we catch the marathon online?
A: KKUP doesn't broadcast online but maybe someday. We're proud to be members of the station. It has been on the air for 41 years. KKUP gives local enthusiasts the opportunity to showcase music that is no longer played over the airwaves.
KKUP is 100% listener sponsored. No college affiliations, no underwriters and no corporate contributions. Which means (this is the best part) no commercials.
Q: Thanks for carrying the torch, Dan. Good luck this weekend.