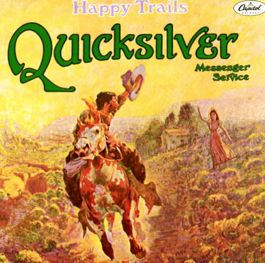 Quicksilver Messenger Service rides again with a 180 gram vinyl release of "Happy Trails" that comes on the heels of last summer's audiophile CD version.
Friday Music says its HQ vinyl "Happy Trails" is a "super limited edition." Copies were nearly gone the day the vinyl album debuted on Amazon. Acoustic Sounds still had the LP in stock.
The recent music business interest in Quicksilver Messenger Service's early psychedelic albums comes after decades of neglect.
The San Francisco band's first two albums — considered their best, not the most popular — suffered from stumble-bum treatment over the years, even going out of print.
Meanwhile, Quicksilver contemporaries the Grateful Dead (Warner), Jefferson Airplane (RCA), Love and the Doors (Elektra) saw their classic recordings keep pace with modern record technology and marketing.
While 1969's "Happy Trails" is mostly a live album, it's considered an important original work from the San Francisco ballroom scene, along the lines of the Grateful Dead's 1968 "Anthem of the Sun." The albums were breakthroughs for both sophomore bands.
Like "Anthem," "Happy Trails" featured live recordings, spiced & spaced with studio overdubs. The Quicksilver jams were recorded at the Fillmores East and West. (View Quicksilver set lists from the Fillmores.)
Sixties music aficionados take note of all this because of "Happy Trail's" two jaw-dropping songs featuring the dual guitar attack of John Cipollina and Gary Duncan. One, a 25-minute suite, sort of, brought Bo Diddley's "Who Do You Love" into the psychedelic era. This psychedelic workout sprawled across side 1, sequenced with a ridiculous lineup of subtitles. The album's flip side served up another killer version of a Diddley rocker, "Mona," clocking in at a mere 7 minutes.
"Describing ('Who Do You Love') is almost like trying to explain the plot of a movie by Godard," a young Greil Marcus wrote in his rave review for Rolling Stone. Amid the guitar heroics comes "an interlude of yelling and shouting by the audience, the participation of the listeners almost like a 'found object' out of Dada."
There are a few originals by guitarist Duncan and (what else) a closing take on Dale Evans Rogers' sunny "Happy Trails."
"It's the way you ride the trail that counts," the boys sang. "Happy trails to you, until we meet again." The ditty would be the classic lineup's swan song, with guitarist Duncan suddenly quitting.
As the '60s ended, band associate Dino Valenti brought a later version of Quicksilver to fame singing his radio-friendly hits "Fresh Air" and "What About Me."
Last summer, Culture Factory put out a collector's CD version of "Happy Trails"
(a "mini LP") that replicated the artwork and packaging of the original release, down to the famed Frederic Remington-style cover painting. The music sprung back to life via via high definition remastering in 96 kHz/24 BIT audio. The group's debut album, "Quicksilver Messenger Service," the third album "Shady Grove" and a few others also received the audiophile treatment.
A Japanese import of "Happy Trails" CD/SHM came to these shores in 2009. The year before, a Japanese mini LP (CD) surfaced.
A dubious "Happy Trails Live 1969" perplexed and pissed off Quicksilver fans last June, but it is not the same record.
The new HQ vinyl "Happy Trails" was remastered by Friday's Joe Reagoso (Procol Harum, Yes, Renaissance) working with Ron McMaster of with Capitol Records, the label that put out the early Quicksilver albums.
The 180 gram album features gatefold cover album art combining the familiar George Hunter front cover with a "rare blue sky overseas version."
Friday Music continues its 180 gram vinyl rereleases of key rock albums this month with "Climbing!" (Jan. 29) by Mountain, "Time Peace: The Rascals Greatest Hits" (Jan. 15) and "Jeff Beck's Guitar Shop" (Jan. 8).
Late last year saw Friday music vinyl rereleases of the Moody Blues' "Days of Future Passed," an Iron Butterfly hits collection and the four-disc Dead set "Spring 1990: So Glad You Made It."