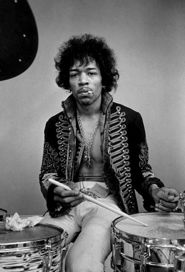 Two new books of photography have touched down to transport us back to the glory days of psychedelic rock.
Jim Marshall has been snapping the stars since before Dylan went electric. He's published several excellent collections of his intimate work, and now comes "Trust: Photographs of Jim Marshall
," another gallery of up-close-and-casual shots of rock gods such as the Beatles, Led Zeppelin, Janis Joplin, the Grateful Dead, Jim Morrison … all with notes from the photographer.
Meanwhile, Zeppelin gets another going over in "Led Zeppelin: Good Times, Bad Times: A Visual Biography of the Ultimate Band
," just out in hardback. There are more than 200 photographs, about half of which have never been published. They range from the band's first performance (as the New Yardbirds) in 1968 to the last (?) show in 2007.
Photographs © Jim Marshall from the book "Trust: Photographs of Jim Marshall"