Psychedelic concert guide
Time marches on. Many of the musicians from the original psychedelic music era are out there touring and playing as well as ever. But most are in the autumn of their careers. Catch these remarkable geezers live and in concert while you still can.
Here are links to tour dates for a field of artists selected by PsychedelicSight.com. Most links go to the concert-tracking site Pollstar. Always confirm dates and venues. *
☮ = highly recommended
Psychedelic music heavies
Performers with strong connections to 1960s-'70s psychedelic rock.


Ian Anderson, Jethro Tull (pictured, above left) ☮
Yes featuring Jon Anderson, Trevor Rabin & Rick Wakeman (ARW)
George Clinton & Parliament Funkadelic ☮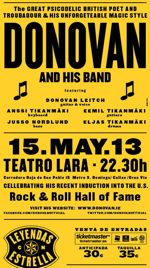 Donovan ☮
Hot Tuna ☮
Ringo Starr & His All Starr Band
Roger Waters (pictured, top of page, right)
The Zombies (Blunstone & Argent)
Grateful Dead-related acts

More acts of the 1960s-early '70s
Herman's Hermits Starring Peter Noone
The Hollies (UK)
NRBQ (Terry Adams) ☮
Kim Simmonds (Savoy Brown)
The Turtles (Flo & Eddie)
1970s-1990s alternative
Neo-psychedelic, experimental
Contemporary acts that carry forward the psychedelic spirit.


Andrew Bird (pictured, above) ☮
Tribute bands
The Australian Pink Floyd Show
Jason Bonham's Led Zeppelin Experience
The Machine Performs Pink Floyd
Zoso — The Ultimate Led Zeppelin Experience
☮ = highly recommended
*Notes: Do a reality check to ensure the artists are performing where and when these lists say they will. Not all artists will have upcoming tour dates, but all have performed in recent months. Use of band's name is no guarantee original members will perform.
Off the road
Recently active acts without upcoming concert dates.:
Jon Anderson (of Yes fame)
Experience Hendrix (Buddy Guy, Billy Cox)
Smashing Pumpkins