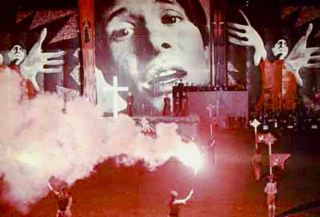 Outlaw filmmaker Peter Watkins looked into the heart of '60s British pop music and found darkness.
For his 1967 movie "Privilege," Watkins turned to he Nazi documentary "Triumph of the Will" — a hypnotic stream of spectacle and fervor — as a primary influence, most obviously in the nightmarish scene in which the pop star convinces a stadium full of rogue youth to convert to religion.
"We … will … conform," they chant as the band offers a goose-stepper's salute. Heavy and twisted.
"Privilege" starred Manfred Mann singer Paul Jones as a rock star co-opted by state and church for purposes of controlling potentially violent youth. The curious film had been largely unseen for almost four decades, and now resurfaces on a New York Films DVD.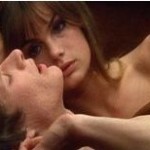 Watkins shot the film as a bogus documentary, based largely on a Canadian short about the singer Paul Anka ("Lonely Boy" — it's included here as an extra).
Of the "Privilege" pop puppet, the evil manager declares: "He belongs to the world, and therefore has no right to himself." The words come almost directly from Anka's handler in the Canadian docu.
"Privilege" has lost some of its absurdist edge because, as it predicts, today's music stars are holistically commoditized and so frequently raped by the media. Back then, the idea of a rocker becoming a brand and fronting a large chain of discos and stores — "to spread happiness" to the masses — seemed ridiculous.
Actor/singer Jones and his onscreen girlfriend Jean Shrimpton took heat at the time for their flat, emotionless performances, which probably play better today. The supermodel Shrimpton managed to swallow every other line, but looked damned fine doing it in a druggy-hottie way.
The movie suffered numerous distribution indignities that kept it from public view until a 2005 retrospective of the director's work. Watkins' highbrow rant in the booklet suggests that Universal kept the movie locked away for political purposes. (Lew Wasserman … it's a stretch).
Images look surprisingly fresh. The soundtrack lacks punch in the musical scenes, but the songs pretty much suck anyway.
There is no making-of docu, unfortunately. The Anka documentary, however, provides big value: It's an engrossing study of teen celebrity, rabid fandom and life in the trenches of showbiz.
— Glenn Abel
For more reviews like this, visit the DVD and streaming video site Screen and Stream