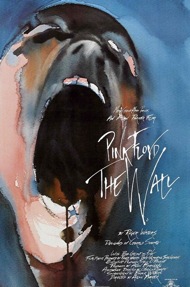 Pink Floyd's contract with EMI doesn't allow the music company to cut up the group's often-seamless concept albums, a British court has ruled.
Judge Andrew Morritt, chancellor of Britain's High Court, said the psychedelic music pioneers have the right to defend "the artistic integrity" of its albums in both traditional and online media.
Pink Floyd was seeing red over EMI Group's distribution of individual songs from their concept albums, notably to the iTunes store. The band's songs, of course, often run together on albums such as "The Wall" and "The Dark Side of the Moon."
EMI argued that its contract with the band — signed ages before the creation of music downloads — gave it the right to use the songs unbundled, online or off.
The ruling on Pink Floyd's albums
came as part of a long-running lawsuit over the band's contract and its catalog, one of the richest in rock.
The judge said that EMI is "not entitled to exploit recordings by online distribution or by any other means other than the complete original album without Pink Floyd's consent."
Almost a week after the ruling, iTunes was selling "Another Brick in the Wall" and other album cuts for $1.29.
EMI said the ruling clarified a point in the contract but didn't mean it had to change its slice-and-dice methods: "Today's judgment does not require EMI to cease making Pink Floyd's catalogue available as single track downloads, and EMI continues to sell Pink Floyd's music digitally and in other formats," the label said in a release.
"We're huge fans of Pink Floyd," EMI added.
AC/DC and Radiohead lodged similar protests over unbundled albums.
Meanwhile, fans in the U.K. can psyche up their letters with Pink Floyd stamps featuring "The Division Bell."