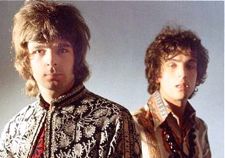 Pink Floyd keyboardist and founding member Richard Wright has died at age 65.
Wright's circus of sounds — odd, spooky, lush or piercing as the occasion required — was the foundation of the psychedelic music the London-based band rode to the top of the rock world.
Guitarist/singer David Gilmour said: "In the welter of arguments about who or what was Pink Floyd, Rick's enormous input was frequently forgotten. He was gentle, unassuming and private but his soulful voice and playing were vital, magical components of our most recognized Pink Floyd sound."
Wright co-wrote the "Dark Side of the Moon" centerpiece "The Great Gig in the Sky" and contributed to almost all of the band's classics of 1960s psychedelia.
Wright was born in London in 1943. In school, he joined a rock and R&B band with guitarist Roger Waters and drummer Nick Mason, playing American covers under various names, including the Tea Set.
Syd Barrett joined the group, which became Pink Floyd. Barrett steered the band toward a mix of curious twee pop, and then into the early works that led to full-blown psychedelia on albums like "Ummagumma," "Atom Heart Mother" and "Meddle." Barrett, who died in 2006, left Pink Floyd as a result of his LSD use and mental problems.
(Wright, left, is pictured with Barrett.)
The keyboardist released a pair of solo albums. He clashed with Waters and left the band briefly. Wright reunited with Gilmour and Mason in the fractured Pink Floyd that survived the stormy exit of Waters in 1985.
Wright died on Sept. 15, 2008. The cause of death was cancer, his publicist said.