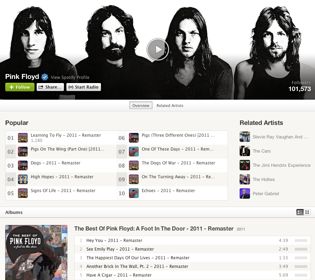 Spotify wanted Pink Floyd fans to work for their dose of psychedelic sounds. They did.
The online music service unlocked the Pink Floyd catalog following a challenge to fans to stream the song "Wish You Were Here" 1 million times.
The psychedelic stunt brought Spotify some freebie publicity. Pink Floyd fans get access to "every track from every Pink Floyd album."
Meanwhile, bandmembers are going up against Internet music service Pandora, over royalties.
Spotify apparently is the only free streaming music service to have the entire Pink Floyd catalog online. Audio was outstanding given the compressed online format.
The challenge was issued via Pink Floyd's Twitter account.
There's an irony here, since fans will cherry-pick their favorite tracks from the British band's many concept albums. One of the flash points in Pink Floyd's court battles with longtime label was the marketing of individual tracks out of context of their original albums.
Several U.K. court rulings of 2010 favored the band's position that EMI did not have the right to sell the tracks via online retailers such as iTunes and Amazon. The chancellor of Britain's High Court said the band had the right to defend "the artistic integrity" of its thematic albums in both traditional and online media. EMI said the beef really was about digital ownership of the music.
In early 2010, however, money talked and Pink Floyd re-signed with EMI. The single-track sales continued, and a massive multiyear rerelease of the band's catalog albums began. The versions of Pink Floyd classics found on Spotify are a result of that campaign's 2011 remasters.

Spotify subscribers should check out the extensive Pink Floyd artist page. The albums are led by the 2011 best-of compilation "A Foot in the Door."
Not to be necessarily expected are the soundtrack to "More" and, in a nice touch, the expanded 40th anniversary edition of "The Piper at the Gates of Dawn" — featured next to the original version of that first album.
David Gilmour's solo albums also are up on Spotify.
Spotify offers free streaming music with ad interruptions. It costs $4.99 to lose the ads. A premium level allows for downloading of music files and listening on any and all devices. About a quarter of Spotify users pay for ad-free content. U.S. listeners are no longer required to link their Facebook pages.
Last year, Sirius XM dedicated a full-time Pink Floyd channel to the psychedelic music veterans. The channel was meant to have a short run, but still can be found online (only) on channel 771.
More Pink Floyd content: