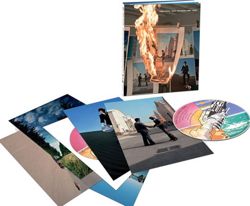 Pink Floyd appears to have a hit on SACD — or what passes for a hit in that low-profile audiophile format.
The specialty label Analogue Productions released the Pink Floyd album "Wish You Were Here" on a 5.1 SACD late last year, and now reports that it's "easily the biggest SACD title in the catalog."
First a bit of history: Super Audio CD (SACD) was introduced in 1999 but failed to catch on with the public, despite quality that's sometimes billed as four times as good as CDs.
After a burst of activity (2002-2005) that saw releases of classic albums such as Pink Floyd's "The Dark Side of the Moon" and the Who's "Tommy," the format staggered and appeared to be pretty much a goner by the end of the 2000s.
"In retrospect, SACD and (rival format) DVD-A never had a chance," the Guardian duly reported in 2007.
Yet SACD soldiered on, catering mostly to classical music fans. Audiophile label Analogue Productions (aka Acoustic Sounds), now a decade old, also found a market in jazz albums from Blue Note. Longtime audiophile specialists Mobile Fidelity also remains active with SACDs. (Both labels are quite active in high-end vinyl as well.) Now, improbably, SACD has made a comeback.
"Wish You Were Here," the Pink Floyd album that followed "Dark Side of the Moon," arrived on SACD as part of EMI's huge Why Pink Floyd…? campaign that began last fall. The SACD was created via the original analog master tapes with the 5.1 mix done by the band's producer/engineer James Guthrie, who reportedly worked on the project for several years.
It is first multichannel presentation of "Wish You Were Here," Analogue Productions says. The label has "exclusive distribution rights" to the album, which comes to SACD with a price tag of $35. (It's not available on Amazon as of this writing.)
Critics and fans are turning in raves, mostly. "Guthrie's expert, musically impeccable multichannel remix added depth and clarity to the superb original," the Audio Beat's Paul Bolin wrote in November. "How he got Richard Wright's ARP string to orbit the room several feet above my head has to be the result of some sort of voodoo."
Guthrie has said he'd like to make "The Wall" the next Pink Floyd multitrack album, if and when there are more SACDs.
On Nov. 4, EMI rereleased the CD of "Wish You Were Here"
in "Immersion" and "Experience" editions.
In addition to the two Pink Floyd albums and "Tommy," currently available SACD titles
with a psychedelic flavor include all of the Doors' studio albums; the Moody Blues' "On the Threshold of a Dream" and "To Our Children's Chidren's Children"; the Beach Boys' "Pet Sounds"; and Santana's "Caravanserai."
(As with all things audio, the potential for excellence does not always equal excellence, so be sure to check out the reviews.)
Some current Blu-ray players are built to handle SACD signals, as is the PlayStation 3 game console. Hybrid SACDs such as "Wish You Were Here" will play on all CD players since traditional stereo tracks are included, but performance would be the same as from a well-made regular CD.