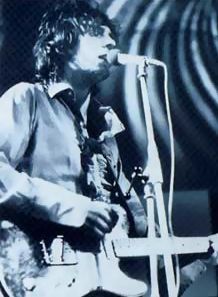 Rare and battered footage of the Syd Barrett-fronted Pink Floyd has been discovered, restored and will screen next month as part of a London preservation festival.
The performance of "See Emily Play" comes from the BBC One Music show "Top of the Pops," which aired in July 1967 just as Pink Floyd was beginning its recording career.
Steve Bryant, senior curator at the British Film Institute, said: "This is an enormously significant discovery that will generate huge interest amongst music fans all over the world, even though the surviving material is in poor condition.
"Footage of Pink Floyd from this era is extremely rare."
Bryant said his staff had restored the performance "as much as has been possible." The footage came from a reel-to-reel tape held by a private collector, reportedly a rock star.
Syd Barrett wrote Pink Floyd's first three singles, of which "See Emily Play" was the second, peaking on U.K. charts at No. 6. It came from "The Piper at the Gates of Dawn
" album, largely made up of Barrett songs. The rock singer's drug-fueled mental health problems led to his estrangement from the band and eventual departure in the months to follow.
The British Film Institute will show the Pink Floyd footage at its "Missing Believed Wiped" series screenings on Jan. 9.
The "MBW" initiative has unearthed some significant performances from the BBC pop music shows " Juke Box Juries," "Thank Your Lucky Stars," "Ready Steady Go," Oh Boy!" and "Top of the Pops."
"Tele-recordings" were routinely erased at the time, especially those in the fading black-and-white format.
Update: Here is the video: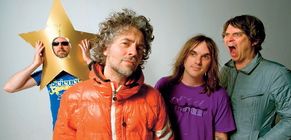 In other Pink Floyd doings, the neo-psychedelic band Flaming Lips will perform "Dark Side of the Moon
" in its entirety at a New Year's Eve show in its home state of Oklahoma.
The show at the Cox Convention Center in Oklahoma City features the Lips kicking off side 1 of "Dark Side" at midnight, with assistance from its frequent opening band Stardeath and White Dwarfs. Phish played the album in concert in 1998, Rolling Stone points out.
The Flaming Lips and Stardeath recently recorded "Dark Side of the Moon" for release on iTunes, with guest stars Henry Rollins and Peaches.
Follow this link to the Flaming Lips doing "Eclipse" on KCRW's "Morning Becomes Eclectic" show (skip to the 30-minute mark to hear the song).