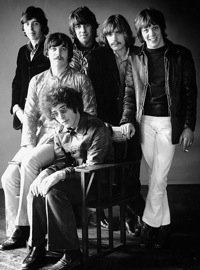 The hassle over song credit and royalties for the psychedelic classic "A Whiter Shade of Pale" appears to be over. A court of Lords has ruled on the side of organ player Matthew Fisher, and against his old bandleader Gary Brooker.
Lyricist Keith Reid and Brooker were previously credited with writing the spooky rock ballad. Fisher's contribution to "A Whiter Shade of Pale" was the Bach-inspired organ theme, famously haunting and evocative. The song begins with his immediately recognizable eight-bar Hammond organ intro.
In 2006, the British High Court found Fisher was due 40% of the copyright, but no earnings prior to 2005. Last year, an appeals court ruled that Fisher was not entitled to royalties because he had waited decades to file the lawsuit. The Lords took up the "Whiter Shade of Pale" case in April.
Last week's ruling by the Law Lords of the House of Lords reinstated the 2006 ruling, noting that Brooker and Reid had actually benefited from Fisher's delay in seeking his credit and royalties.
Fisher, a computer programmer, has performed on and off with Procol Harum since its heyday. He told the BBC: "This was about making sure everyone knew about my part in the authorship. … A win without money was never going to be recognized as a win at all."
Fisher said he had asked many times for piece of the psychedelic ballad's fame and fortune, but was denied. The musician didn't press too hard in fear of losing his job in a major rock act, he explained.
"A Whiter Shade of Pale" was a major hit on AM and FM radio during the '60s, and has continued its successes as a popular soundtrack addition in TV and film, perhaps most famously in "The Big Chill." There are hundreds of cover versions, and the song remains in heavy rotation on classic rock and oldies stations.
Procol Harum's classic albums are being remastered and rereleased this year. Brooker remains the only original member of the band, which has seen numerous personnel changes over the decades.
"A Whiter Shade of Pale" is a top 10 entry on this web site's Top 100 Psychedelic Songs of all time.