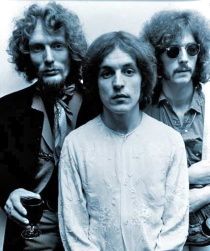 Known for its slashing wah-wah guitar solo, pounding drums and halting drug-inspired lyrics, "White Room" remains one of Cream's heavily trafficked songs.
Although the wah-wah pedal effect on Eric Clapton's guitar marks it as a product of the late 1960s, "White Room" feels as contemporary as anything in the Cream catalog. The rock song is marked by an unusual sophistication in the lyrics and musical structure.
Lyricist Pete Brown wrote "White Room" with bassist/singer Jack Bruce. Brown's carefully measured poetry (doled out in four-syllable phrases) lifts this above so many trippy-nonsense lyrics of the era:
"In the white room, with black curtains, near the station/
Black roof country, no gold pavements, tired starlings"
The "White Room" was a new flat (apartment) inhabited by Brown, a place where "the shadows run from themselves." Before long, Brown must confront "the station," perhaps the London Tube, where pain awaits as a lover departs:
"You said no strings could secure you at the station/
Platform ticket, restless diesels, goodbye windows"
While drugs reportedly came into play in the song's creation, this is a fine example of a psychedelic song working within the temporal confines of a rock single.
"White Room" remains a concert staple for both Bruce and Clapton. It was the penultimate song at the 2005 reunion shows.
Further reading on Cream's "White Room"
"White Room" lyrics
"White Room" chords