"Filled with Fear" was more than a song title — consider it truth in advertising for the contents of Iron Butterfly's "Ball," the hurried but solid followup album to "In-A-Gadda-Da-Vida."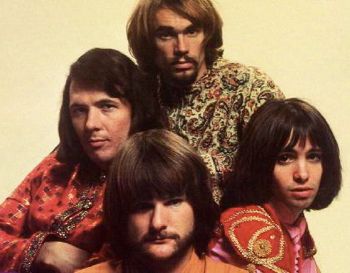 Anchored by songs of dread and existential panic, the album in some ways anticipates John Lennon's primal-therapy explorations of "Plastic Ono Band," still several years away. Imaginative listeners can hear in 1969's "Ball" the death throes of the 1960s.
Here is "the story of a maddening darkness," one song warns listeners.
Still, the Southern California band remained true to its ethos of heavy and light — acid rock leavened with a "melodic consciousness" — resulting in a relatively tight album that to modern ears sounds like Iron Butterfly's best. To the extent that Iron Butterfly ever truly got it together, it happened here.
"Ball" gets a needed rerelease on CD in early June 2015, with a Real Gone Music version replacing the often-maligned Collector's Choice title of 1999. Sonics show strength in dynamics and separation, with a presentation that's nicely musical instead of muddied. (Rhino made the disc.)
The bleak moments of "Ball" can be traced in large part to the increasing disenchantments of the group's primary songwriter, Doug Ingle, who had wearied of the road and demands brought on by the sudden success of the psych-jam "In-A-Gadda-Da-Vida."
"Ball" would be the second and final studio album from what is considered Iron Butterfly's classic lineup. (Ingle would bail on his own band several years later, after the decent "Metamorphosis.")
Iron Butterfly, of course, remains famous for the 17 minutes of "In-A-Gadda-Da-Vida," but should be remembered instead for the 8-minute opening of "Ball" — primo psychedelic rock served back to back on the album's strongest cuts.
"In the Time of Our Lives" recalls the brilliant "Iron Butterfly Theme" from the debut album. "Lives" is an equally cinematic work, beginning with a clanging anguish straight out of a Hammer horror film. Guitarist Erik Brann drives his fuzzed-out Mosrite straight into wounded beast mode. A tortured amp yelps in reverberated protest. Echoplex rules. Chants recall the darkest of the Middle Ages … or some laddie video game. "These are the things that we hear in the time of our lives," Ingle explains.
Fate hangs over the proceedings like cloying incense: "How you doing, people that passed on yesterday?" Ingle asks the dead. "Did you meet with justice on your judgment day?"
The song's climax leaves us alone with a stark bit of militaristic snare drum — an effect far less chilling all these years away from the Vietnam war. "In the Time of Our Lives" runs on large doses of psychedelic kitsch, but it's not without artistry or contemporary appeal.
Lee Dorman's insistent bass line — straight out of the garage — leads right into "Soul Experience," one of Iron Butterfly's signature songs. It's another terrific B-movie vamp, this time with cascading science fiction effects from Ingle's Vox organ. The outer-space chill undercut with the song's lite but irresistible message of peace and love:
Open up your thoughts and listen to others,
Your fellow man may surprise you;
He offers a unique item,
Soul experience, help yourselves to each other.
Both "In the Time of Our Lives" and "Soul Experience" charted, modestly. The album went to No. 3 partly on radio play of the tracks.
Ingle's "Lonely Boy," a lengthy ballad that dated back a few years, eventually gives away to "Real Fright," with its man-on-the-run bass line. Ingle's organ once again evokes a cinematic feel, this time a black-and-white thriller. "Your heart starts pounding … a face chalk white," Ingle sings in his baritone.
Side 2 opener "It Must Be Love" gives young guitarist Brann two solo spots to shine, the results similar to (but better than) his work on the "In-A-Gadda" song. Classic late '60s fuzz, played with precision by a promising musician. Listen for the Doors influence.
Ingle's upbeat "Her Favorite Style" (a testament to a hippie chick) kills some time before the album's grim other bookends.
The midtempo "Filled With Fear" finds our narrator flirting with madness: "The end of my mind is so near … churning and burning with fear." Is that Dracula's cue we hear — or just a Bach rift? A choir checks in from some giallo crime scene. The young John Carpenter no doubt loved that throb.
Brann's composition "Belda Beast" recalls the young musician's grim "Termination" off the "In-A-Gadda" album. "Belda Beast's" big-top musical theme accompanies lyrics sung by Brann that could be read as a suicide threat, or perhaps just the death of a relationship. Young Brann faced serious health problems throughout his life and eventually died in his early 50s — a glimpse of foreshadowing is unavoidable. Brann and Ingle see out the listener with a strong instrumental duet. "Bye-bye," Brann sings. And it's over.
Liner notes: Real Gone Music's 2015 CD is an expanded edition, including the same two tracks found on the Collector's Choice CD. The bonus songs — "I Can't Help But Deceive You, Little Girl" and "To Be Alone" — were recorded by the same lineup of Iron Butterfly, just after the "Ball" sessions.
"Deceive You" feels unfinished, but "Alone" proves a strong track with a Lon Chaney vibe. It anticipates the metallic bite of the "Metamorphosis" album. Both songs feature solos by Brann, who seems to have improved as a guitarist in the interim, moving past a tendency to simply run the scales.