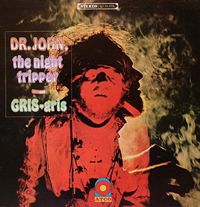 In 1968, the veteran New Orleans record producer and songwriter Mac Rebbenack caught the psychedelic bug and started performing under the name Dr. John Creaux, the Night Tripper.
The Night Tripper's brew of voodoo rhythms, New Orleans R&B and psychedelic sounds produced at least one etched-in-vinyl masterpiece: the frightfully mysterious "I Walk on Guilded Splinters."
The tune came from Dr. John's debut LP "Gris Gris," a concept album built around the Night Tripper character. It was recorded in L.A. with a group of fellow New Orleans expatriates, notably Harold Battiste.
Gris-gris refers to a voodoo spell or amulet. The name Dr. John came from the mid-1800s, belonging to a potions brewer and voodoo practitioner, who may or may not have had some link to Rebbenack's family. Dr. John would do his Night Tripper bit performing in robes and with elaborate Mardis Gras headdresses. The stage was set for narcotic rhythms, and sounds suited to the soundtrack of "I Walked With a Zombie."
Here's Richie Unterberger in his "Gris-Gris" liner notes for a CD rerelease:
The blend of druggy deep blues, incantational background vocals, exotic mandolin and banjo trills, ritualistic percussion, interjections of free jazz, and Dr. John's own seductive-yet-menacing growl was like a psychedelic voodoo ceremony invading your living room.
Indeed, 20th century legend has it that "I Walk on Guilded Splinters" has proved authentic enough to be used in New Orleans voodoo rituals. Certainly it found favor with the psychedelic drug users, who flirted with some seriously bad trips. Is that singer really calling out "Did I murder" over and over? Have some mo' gumbo spiked with acid.
At a time when psychedelic-tinged bands favored longer and longer songs, Dr. John showed the hippies how it's done: "Guilded Splinters" (aka "Gilded Splinters") slithers and flow-times its way across 7 minutes and 43 seconds. The song takes almost a minute to end, as if the singer were drifting off into a dream state, or perhaps emerging from a trance. Dr. John was in his element, since he had a longtime heroin addiction.
Partly because of this album, Dr. John entered the Rock and Roll Hall of Fame on March 14, 2011.
Ginger Baker and his Air Force often get credit for bringing true African music into rock, but two years earlier Dr. John summoned up the Dark Continent with the song's humid and primal conga beat. The singer even name-checks the Zulu:
Walk on guilded splinters
With the King of the Zulu
The Night Tripper seems to be placing a curse or praying for vengeance. A couple of female backup singers complete the call and response. Dr. John growls and spits out this prediction of doom for his tormentors:
When I roll out in my coffin
Drink poison in my chalice
Pride begins to fade
And y'all feel my malice
I put gris-gris on your doorstep
The voodoo haze lifted over the years but the name Dr. John stuck. The singer-pianist has gone on to a long and prolific career as a signature New Orleans R&B/pop/jazz artist. (text continues)
"I Walk on Guilded Splinters" remains a favorite among musicians. Humble Pie recorded a famous version for "Performance Rockin the Fillmore" while more recently Paul Weller, the Allman Brothers and Little Feat featured it in concert. Contemporary bands like Widespread Panic continue the tradition.
Here's a live video of Humble Pie doing its version of "I Walk on Guilded Splinters." The performance is moodier than the "Fillmore" version and closer in spirit to the Dr. John the Night Tripper original. Check out young Peter Frampton in the white shirt (at 0:44). The singer is Steve Marriott. (From the Bilzin Festival in Belgium, August 1967.)
More "I Walk on Guilded Splinters" videos:
Paul Weller
Marsha Hunt (weak audio)
Further reading on "I Walk on Guilded Splinters":
"I Walk on Guilded Splinters" lyrics
A blogger's salute
Gris-Gris liner notes