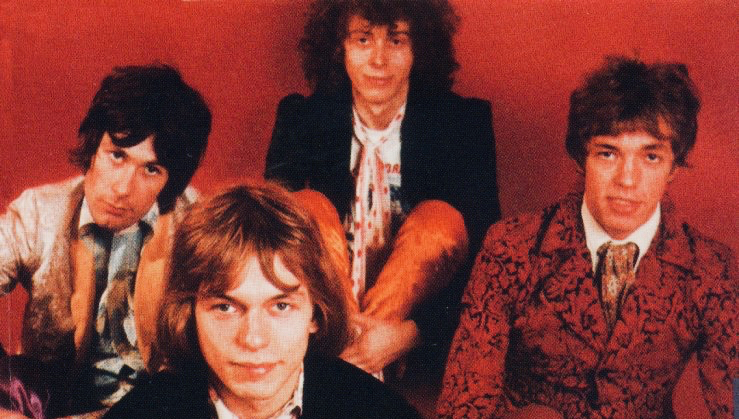 Tomorrow never arrived. The band had no future. But it left behind one gloriously psychedelic song.
Tomorrow was one of the three "underground" acts to play Joe Boyd's UFO Club in London of 1966-67. The best known, then and now, of course, is Pink Floyd. Next is line was the prog-jazz outfit Soft Machine. Both of those bands found their places in rock history.
Tomorrow was another matter. Today, those who know of the the band generally do so for one of two reasons:
Steve Howe of Yes Fame was the group's brilliant young guitarist;
The single "My White Bicycle," beloved by many over the years but bought by few at the time. Despite its head-spinning charms, the song failed to even chart.
A few myths did attach themselves to the song over the years.
Howe and others have been known to call it the first British psychedelic single, although the Yardbirds' "Happenings Ten Years Time Ago" predated "Bicycle" by seven months.
The song's breathtaking backward/double-tracked/phased guitar work wasn't unique to the band, either — although it certainly could be argued that Tomorrow was among the first rock acts to use the technique and make it pleasurably musical.
"It had been done by the Beatles or the Byrds or somebody … everybody (in rock circles) had touched it," Howe recalled years later. (George Harrison used backward guitar on "I'm Only Sleeping" the summer before.)
(text continues)
A rock folk tale says the "White Bicycle" refers to LSD father Albert Hoffman's famed two-wheel trip, but alas that one doesn't stand up, either. The song was inspired by a Dutch socialist scheme of the day in which hundreds of white bicycles were strewn about Amsterdam for the use of one and all.
Vocalist Keith West, who co-wrote the song (as Keith Hopkins), makes the most of his joyride. After a brief psychedelic intro, the guitar digs into the hook. The band quickly adopts a pumping beat and West sings:
Riding all around the streets
Four o'clock and they're all asleep
I'm not tired and it's so late
Moving fast everything looks great

My white bicycle
(My white bicycle) …
"(The main guitar theme) is like a droning sitar sound," drummer John "Twink" Alder recalls. "We were listening to Ravi Shankar and Gabor Zarbo at the time. So our influences were Indian mainly. Steve may have picked up on that … or he may have just pulled it out of the air."
Howe credits producer Mark Wirtz for leading him into double-tracking: "I'm suddenly playing and then he says to me, "Let's play it again," and I said, "Didn't you like that?" He said, "That's great, let's do it again double-track," and I kind of went wow. … The way that all got edited was I think quite mystifying to us at first."
How could so good a song — one with hooks, novelty, ace musicianship and a terrific beat — be simply ignored? Competition probably explains a lot. 1967 was no time for the almost-great. The song came out two months after Jimi Hendrix's "Purple Haze" mind-fucked the pop world, for example.
Perhaps some of that Beatle magic rubbed off on Tomorrow and its signature song. The Beatles were neighbors at Abbey Road Studios, working on "Sgt. Pepper." The liner notes to a reissue of Tomorrow's only album says the Fabs were even present during the mixing. There's a great rumor in there, somewhere …
Side notes: In 1999, EMI rereleased the "Tomorrow" album. The remastered recording, done from the original tapes, includes a stereo version of "My White Bicycle," a first. … "My White Bicycle" came out as a single while the band was still recording the album. … Tomorrow disbanded as singer West found fame with producer Wirtz's concept LP "Excerpt From a Teenage Opera." Howe joined Yes in 1970. … Club guru turned producer Joe Boyd remembered the song. He wrote a book called "White Bicycles: Making Music in the 1960s." … Steve Howe revived the number as the final number of his "Pulling Strings" solo tour and album. … The persistence of "My White Bicycle" can be attributed in part to its inclusion on compilation sets such as "Nuggets: Original Artyfacts from the First Psychedelic Era, 1965-1968."